Full of melted chocolate chunks and topped with sea salt, these jumbo Bakery-Style Chocolate Chip Cookies are a sure crowd pleaser!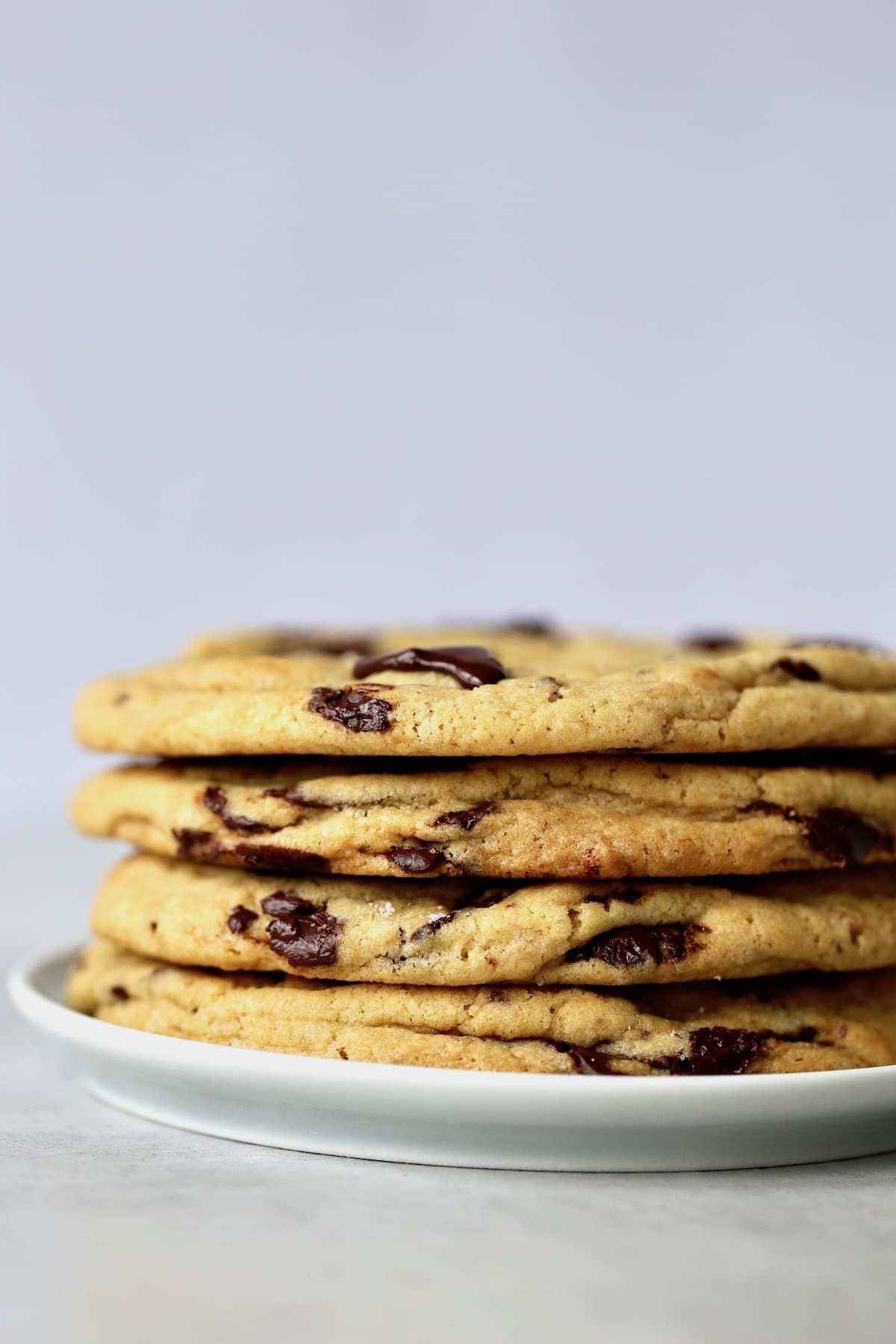 I feel like chocolate chip cookies are like pizza. With pizza, you can have thin crust like in New York or a thick, deep-dish pizza like in Chicago. Chocolate chip cookies are similar in that they are often either thick and doughy or thin and chewy. These bakery-style vegan chocolate chip cookies are the latter…and they are perfection in my book. They're crispy on the outside, chewy on the inside; full of melted chocolate chunks and sprinkled with sea salt! Oh, and did I mention they're massive?! So you can enjoy one all to yourself (with a cup of tea or coffee, of course) or you can share one with a friend or loved one. 
This chocolate chip cookie recipe is a classic in that I didn't try to "healthify" anything. I wanted a recipe that would wow my non-plantbased friends, while making my vegan friends feel like they're not missing out on a single thing. After trying out these cookies, my friends drilled me with questions as to how they were so good while still vegan. Well, today the secret's out! Below you'll find the recipe for these amazing, bakery-style vegan chocolate chip cookies!
Is chocolate vegan?
I've answered this question a few times on the blog already, but I'm still amazed at how often I get asked if chocolate is vegan. No, not all chocolate is dairy-free and vegan, but I find it really easy to find dairy-free chocolate almost anywhere. Just read the ingredients to see if whey or milk powder was used. Also, while its name suggests otherwise, cacao butter isn't actually a dairy product!
What makes these Vegan Chocolate Chip Cookies so good?
There are a few reasons I'm obsessed with these cookies. The first is that instead of using chocolate chips, I cut a chocolate bar into chunks and use those instead. So I guess technically, these cookies should be called vegan chocolate chunk cookies! Sprinkling sea salt or flaked salt on top of the cookies right after you pull them out of the oven provides that amazing sweet and salty contrast that I love. Lastly, the addition of cornstarch gives these cookies a nice, crispier outside and chewy inside. While I'm not one to turn down any kind of chocolate chip cookie, these three factors have made this recipe one of my favorites!
Other Vegan Cookie Recipes
In case you're not into classic chocolate chip cookies, I've got a slew of amazing vegan cookie recipes that you can check out below!
Zucchini Oatmeal Chocolate Chip Cookies
Chewy Oatmeal Apricot Almond Cookies
Peanut Butter Oatmeal Chocolate Chip Cookies
Almond Butter Coconut No-Bake Cookies
Vegan Peanut Butter Blossom Cookies
Please let me know if you give these chocolate chip cookies a try and what you think! I'd love to know if you like your cookies thick or thin and what other requirements need to be present in your perfect chocolate chip cookie. If you make and like this recipe, be sure to leave a star rating and share it with others! And as always, I always love to see your creations on Instagram so be sure to take a photo and tag @theconscientiouseater!
Bakery Style Vegan Chocolate Chip Cookies
Full of melted chocolate chunks and topped with sea salt, these jumbo Bakery-Style Chocolate Chip Cookies are a sure crowd pleaser!
Ingredients
1/2 cup vegan butter
1/2 cup packed brown sugar
1/3 cup cane sugar
1 tablespoon aquafaba*
1/2 tablespoon vanilla extract
2 teaspoons cornstarch
3/4 teaspoon sea salt
1/2 teaspoon baking powder
1/2 teaspoon baking soda
1 1/2 cups white flour**
1 block dark chocolate (100g), cut into chunks, divided
Instructions
PREP: Preheat your oven to 325F and line a baking tray with a silicone baking mat or parchment paper.
COOKIES: In a large mixing bowl, use a large spoon or hand mixer to cream together the vegan butter and sugars until a uniform paste forms. Add in the aquafaba and vanilla and stir until combined.
Add in the remaining dry ingredients, from the cornstarch to the flour (see notes for how to measure the flour!) and stir until a dough forms.
Fold in the chocolate chunks, reserving about 1/4 cup to sprinkle on top once the cookies are baked.
Divide the dough into 4 equal portions, roll each portion into a ball and place it on your lined baking sheet. Make sure each portion of dough has plenty of room around it as these cookies will spread out significantly while baking.
BAKE: Bake the cookies for 22-25 minutes.
Remove the cookies from the oven and immediately sprinkle the tops of the cookies with the reserved chocolate chunks and a touch of sea salt.
Enjoy the cookies while still warm if you like a softer cookie, or allow them to cool completely for a chewier cookie!
STORE: Store the cookies in an airtight container or baggie on the counter for a couple days.
Notes
*Aquafaba is the liquid from a can of chickpeas and it makes a great egg substitute!
**Measure the flour by scooping it up with a spoon and placing it in the measuring cup. Then use a straight edge knife to level the top off.
This recipe was adapted and veganized from Chelsey's Messy Apron!
Recommended Products
Nutrition Information
Yield

4
Serving Size

1 jumbo cookie
Amount Per Serving
Calories

573
Total Fat

26g
Saturated Fat

16g
Trans Fat

1g
Unsaturated Fat

8g
Cholesterol

62mg
Sodium

807mg
Carbohydrates

81g
Fiber

2g
Sugar

42g
Protein

5g
Nutrition information is a rough estimate provided by Nutrionix and should be used for informational purposes only.