This incredibly delicious vegan enchiladas recipe is a healthy take on a traditional comfort food that your family will love!
Looking for more vegan Tex-Mex recipe inspiration? Check out my 11 Mouth-Watering Vegan Tex-Mex Recipes post!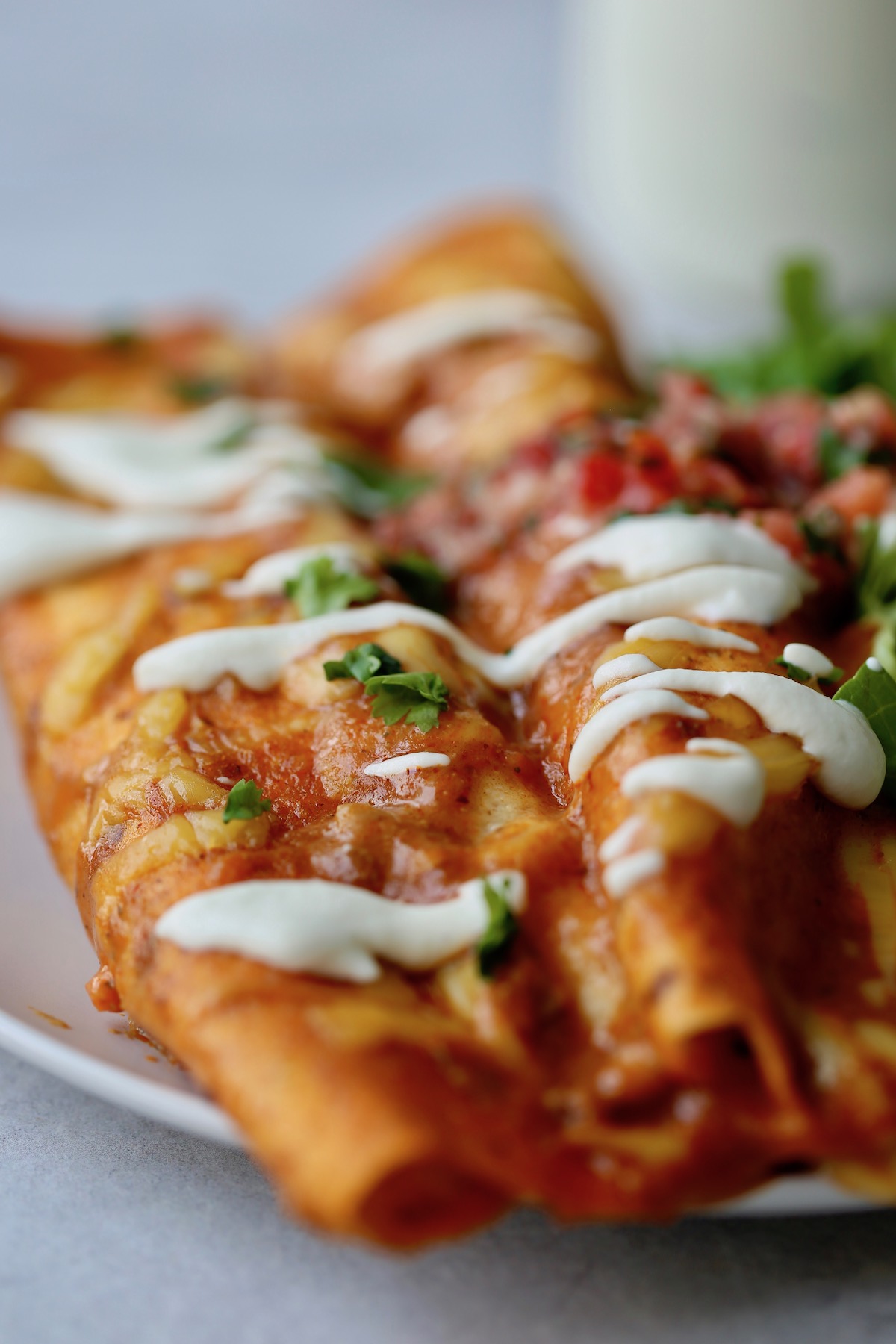 I have friends from Texas who swear by the fact that Tex-Mex food is a gift given to us directly by God.
Seriously...people from Texas are crazy.
At first, the idea of making a vegan version of their favorite Tex-Mex dishes was simply unthinkable, but I think I'm slowly wearing them down.
I started to win them over with my vegan nacho cheese sauce that we poured onto a bed of homemade oil-free baked tortilla chips. That was a huge success.
Now I've convinced them to try my version of a staple Tex-Mex dish: vegan enchiladas.
"No meat? No cheese? Uhhh...no thank you," was their initial response.
But their skepticism turned into full-blown shock after they tried these vegan enchiladas.
When you find just how simple, easy and healthy this vegan enchiladas recipe is, I'm sure you'll be just as pleased.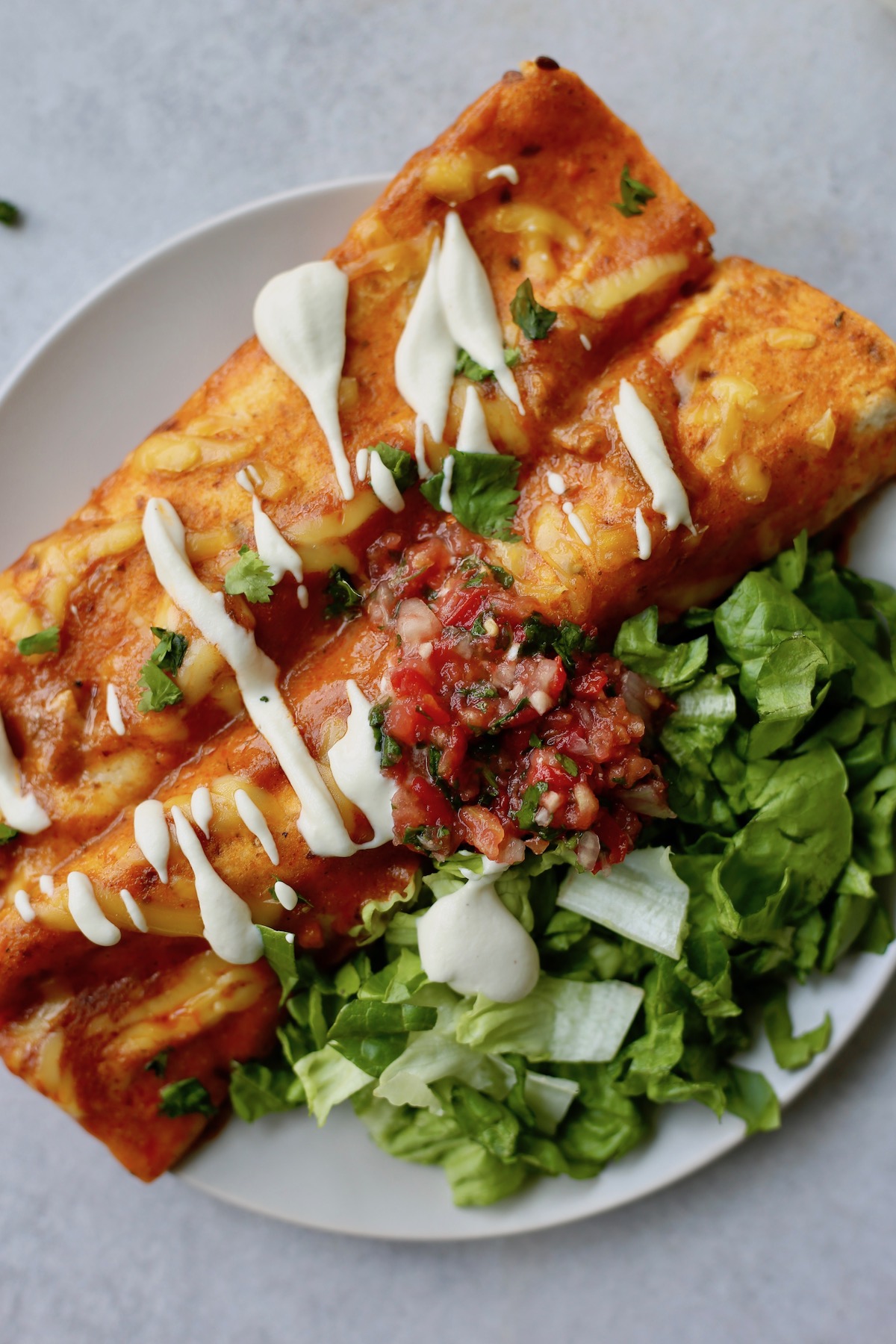 Ingredients You Need for Vegan Enchiladas
There are so many different varieties of enchiladas.
You can always switch up the filling, sauce and toppings to keep things exciting.
Today I'm just sharing one version that I'm loving lately!
The filling for these vegan enchiladas is made from tempeh and black beans, making this a high-protein meal.
For the filling you'll need the following ingredients:
Olive oil
Tempeh
Onion
Garlic, minced
Black beans
Cumin
Paprika
Liquid smoke (optional, but so good!)
Less-sodium soy sauce
Salt
Shredded vegan cheese
If you can't find liquid smoke--an amazing ingredient that adds a meaty flavor--then you can try finding smoked paprika and using that instead of plain paprika.
As for vegan cheese, Violife is my favorite!
Of course, you'll also need some enchilada sauce to go on top of the stuffed tortillas.
I usually make my own enchilada sauce, but feel free to use your favorite store-bought sauce as well!
How to Make Vegan Enchiladas
You can print the full vegan enchilada recipe below, but here's the overall process:
Step 1: Prepare the Enchilada "Meat"
The "meat" for my vegan enchiladas is made using a wonderful tempeh mixture.
Heat olive oil in a large skillet, saute chopped onions and then add minced garlic and tempeh pieces until cooked to golden brown.
Combine this with your spices, black beans and (if you want) some liquid smoke.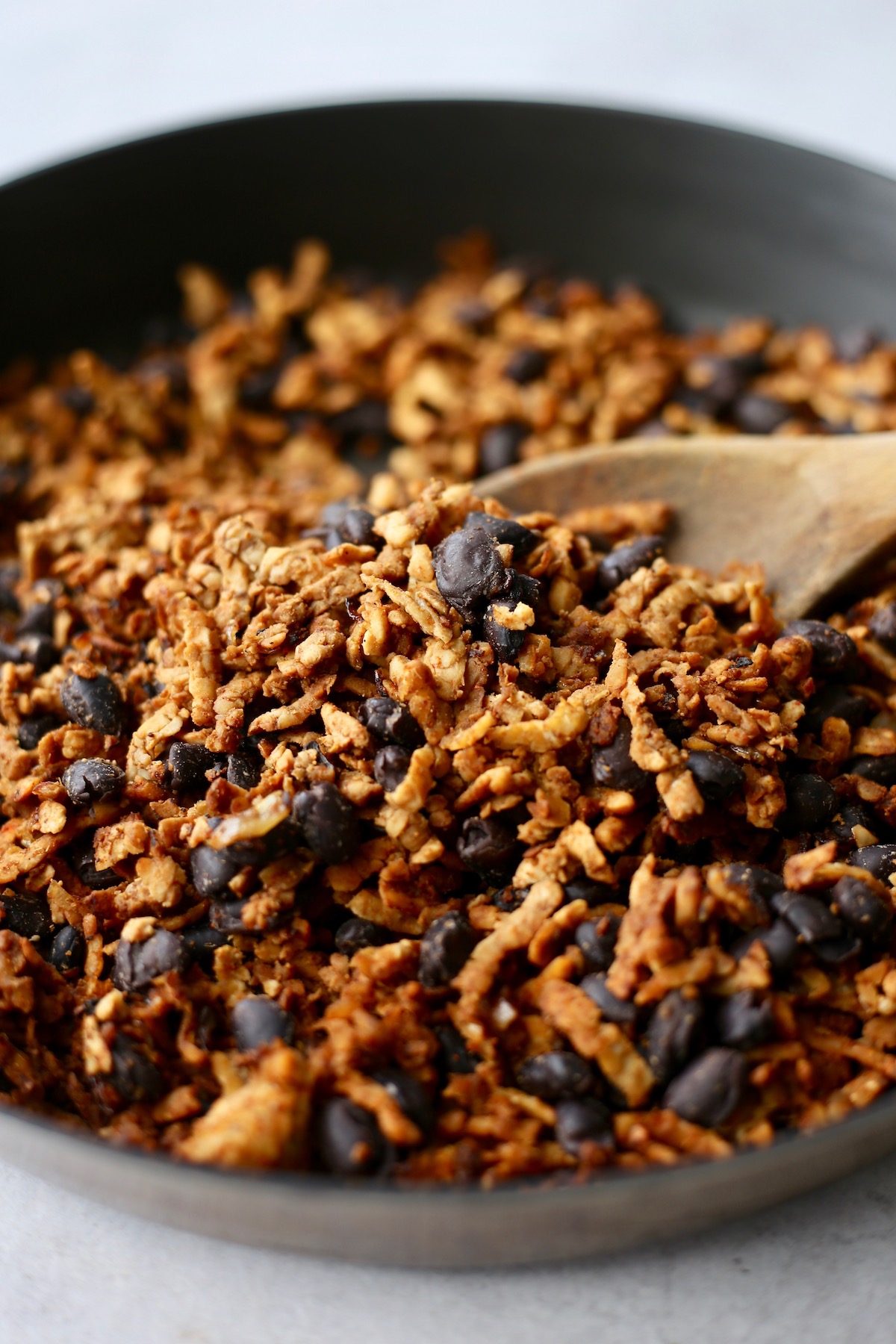 The end result is a delicious, well-seasoned base for your vegan enchiladas.
Step 2: Make Your Vegan Enchilada Sauce
Sure, you could buy pre-made enchilada sauce - and I won't judge you if you decide to do this - but it tastes much better if you make your own.
I've tried a number of different enchilada sauces, but hands-down my favorite is this enchilada sauce recipe by Cookie+Kate.
It's a super-easy recipe that is packed full of flavor and honestly would turn any enchilada recipe into a family-favorite.
Making the homemade enchilada sauce takes about 10 minutes, and after this is finished you'll want to prepare everything for the oven.
Step 3: Prepare Enchiladas in Baking Dish
If you've ever made this kind of Tex-Mex dish before, the vegan enchilada version isn't that much different.
You first spread a spoonful of your tempeh/bean mixture and some vegan cheese across a corn tortilla, roll it up and place it seam-side down in your 9x13" baking dish.
Note: Traditional enchiladas are made with corn tortillas, but you can use flour tortillas if you'd rather.
When the dish is filled, pour over and spread your enchilada sauce.
Spread the sauce evenly over the entire dish.
Finally, sprinkle these enchiladas with about half a cup of your shredded vegan cheese.
Step 4: Cook & Enjoy!
These vegan enchiladas should be baked for about 20 minutes at 350°F.
Pull them out, let them cool for a bit and then serve them warm for best results!
How to Reheat Leftover Enchiladas
I personally find leftover enchiladas to be delicious.
After sitting in the fridge overnight, all the flavors have time to meld together.
It's super easy to reheat leftover enchiladas.
When I'm in a rush, I simply microwave leftover enchiladas until heated through.
If you have a little more time, you can always bake them. Place them in an oven safe baking dish, cover them with foil and bake them for about 30 minutes at 350F or until hot in the center.
When you reheat enchiladas, feel free to add more cheese as well!
Other Vegan Mexican / Tex-Mex Recipes
If you enjoy these vegan enchiladas, you really should try a couple of these other Mexican and Tex-Mex inspired recipes I have on this blog!
Give these recipes a try and leave a comment here to let me know what you think!
Better yet, take a picture and tag @theconscientiouseater on Instagram and I might feature your work!
Yield:

8 servings
Easy Vegan Enchiladas
This delicious vegan enchilada recipe is a healthy take on a traditional comfort food that your family will love!
Ingredients
2 tablespoons olive oil
1 block tempeh
½ onion, chopped
3 cloves garlic, minced
1 14.5 oz can black beans, drained and rinsed
2 teaspoons ground cumin
1 teaspoon paprika
¼ teaspoon liquid smoke (optional)
2 tablespoons less-sodium soy sauce
Salt to taste
1 ½ - 2 cups shredded vegan cheese, divided
8 flour tortillas
2 cups enchilada sauce (See notes for the recipe I like to use!)
For Serving: shredded lettuce, salsa, vegan sour cream, guacamole, cilantro, etc.
Instructions
In a large skillet, heat the olive oil over medium heat
While the oil is heating, prepare the tempeh mixture. If you have a food processor, rip the block of tempeh into smaller chunks and place it in your food processor. Pulse the tempeh until it is the size of ground beef. If you don't have a food processor, just cut or crumble the tempeh into small pieces.
Once the oil is hot, add in the chopped onion and sauté until translucent.
Add in the minced garlic and tempeh and cook until the tempeh starts to brown.
Add in the drain and rinsed black beans as well as the spices and stir to combine. Lastly pour over the soy sauce and liquid smoke and stir again to make sure all the tempeh and black beans have been well seasoned.
Taste the mixture and add more salt or spices to taste.
Preheat your oven to 350F and start assembling the enchiladas. Pour about ½-1 cup of enchilada sauce over the bottom of a 9x13 inch baking dish and spread it out to coat the bottom of the dish.
Place a tortilla flat on a clean surface and spread a spoonful of the tempeh/bean mixture across the tortilla. Next sprinkle over a small handful of the shredded vegan cheese. Roll up the tortilla and place it seam-side down into your prepared baking dish. Continue this process until all 8 tortillas have been filled and placed in the dish. You'll want to use about 1 cup of the shredded vegan cheese, or more as needed.
Pour over the remaining enchilada sauce and spread it evenly over the tortillas. Sprinkle the top of the enchiladas with the remaining ½ cup of shredded vegan cheese.
Bake the enchiladas uncovered for about 20 minutes.
Serve warm with your favorite toppings such as shredded lettuce, salsa, vegan cashew sour cream, guacamole, cilantro, etc.
Store leftovers in an airtight container for a few days.
Nutrition Information
Yield
8
Serving Size
1
Amount Per Serving
Calories

406
Total Fat

13g
Saturated Fat

3g
Trans Fat

0g
Unsaturated Fat

9g
Cholesterol

0mg
Sodium

1523mg
Carbohydrates

57g
Fiber

8g
Sugar

15g
Protein

16g
Nutrition information is a rough estimate provided by Nutrionix and should be used for informational purposes only.