This quick-to-prepare, colorful and nourishing Chickpea and Broccoli Sheet Pan Dinner will become a weekly staple in no time. It's easy to prepare, requires little clean up and is loaded with plant-based flavor and nutrition!
As a mom of two little kiddos, I'm all about easy dinners.
If you're a parent, then you know about the witching hour. It's the time of the night when you're trying to make dinner and all the kids are fussy and crazy.
That's why I'm starting to come up with more one-pot dinners (like my One-Pot Creamy Marinara Pasta) and sheet pan dinners (like this Peanut Butter Tempeh and Broccoli Sheet Pan Dinner).
They're quick and easy and require minimal clean up!
Today I'm sharing with you a sheet pan dinner recipe that combines all of my favorite foods.
This Chickpea and Broccoli Sheet Pan Dinner is easy to throw together and pairs well with so many different kinds of grains and sauces.
Let me show you how to make it!
Ingredients for this Sheet Pan Dinner
This simple sheet pan dinner requires just a handful of ingredients. A few hearty vegetables and chickpeas are drizzled with some olive oil, salt and spices and roasted to perfection.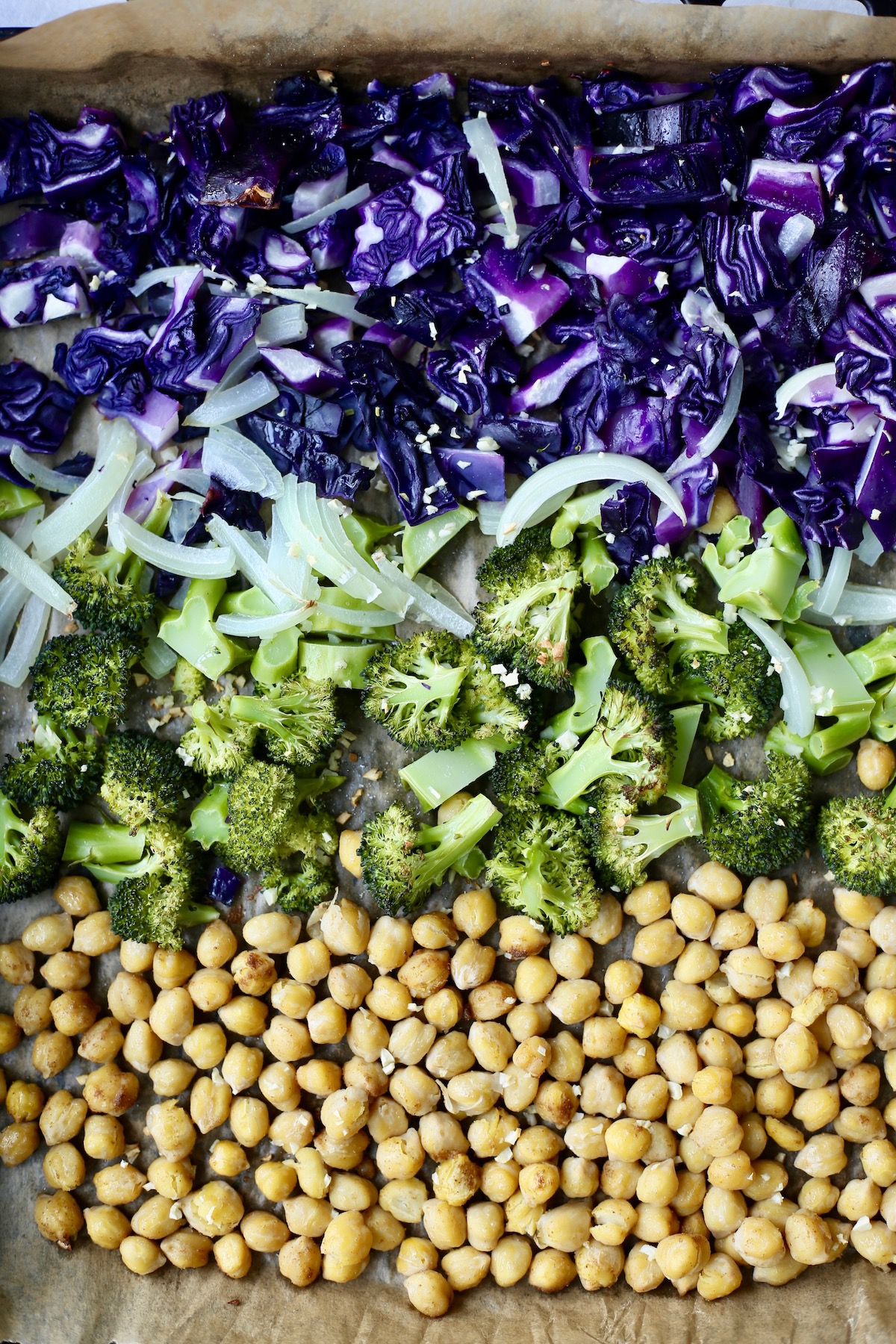 To serve, simply pair them with a hearty grain like brown rice, quinoa or couscous and drizzle them with Lemon Tahini Dressing or a dollop of the BEST Hummus (trust me!).
The ingredients you'll need to make this recipe are listed below:
See?! Such a simple list of ingredients!
Thankfully, other than the red cabbage and broccoli, the remaining ingredients are all pantry-friendly ingredients. I'm guessing you already have most of them on hand.
Tips for Making Sheet Pan Dinners
I have a few tips to share with you when it comes to making sheet pan dinners.
You may need to use two sheet pans. In Asia, where I usually live, the ovens are considerably smaller than most ovens you'd find in America. If that's also the case for you, you may need to use two sheet pans as opposed to one larger sheet pan. This will allow the vegetables and protein to have more space to cook evenly.

Use vegetables and proteins that have similar cooking times. If you're planning to cook an entire meal on one sheet pan at the same temperature, then you'll want to use vegetables and proteins that cook at the same rate. Otherwise you'll risk some foods burning and others being under-cooked. If you do want to cook foods that cook at different rates, then be sure to keep them separate so that you can remove the individual ingredients when they've finished cooking.

Add oil, salt and spices for flavor. Usually sheet pan dinners use simple ingredients, so adding a little fat, salt and spices makes them more exciting!

Serve with a carb and sauce. Sheet pan dinner usually provide a veggie and protein, so it's good to pair them with a hearty grain and/or sauce to round out the meal. While the veggies and protein are cooking, prepare a whole grain and sauce to finish off the meal!
How to Make Crispy Chickpeas in the Oven
The star of this meal, in my opinion, are the crispy chickpeas! Once you cook your chickpeas this way, you'll never want to cook them any other way.
But to make the chickpeas crispy, you need to follow these important steps:
Use dry chickpeas. In order for the chickpeas to get crispy, they need to be dry. Start by draining and rinsing your can of chickpeas and then place them on a tea towel. Pat and rub them with the tea towel until they are as dry as possible. Place them in a bowl. If you try to roast wet chickpeas, they will just steam and not get crispy.

Add a little oil. Once the chickpeas are dry, you'll need to add a little oil. Adding oil to the dry chickpeas will allow them to crisp up in the oven. It's kind of like deep frying foods, but you're using a LOT less oil.

Add salt and spices for flavor. Once the dried chickpeas have been coated in a little oil, sprinkle on some salt and spices for flavor. My favorite go-to seasoning is garlic salt, but a combination of fine sea salt and different ground spices works great as well.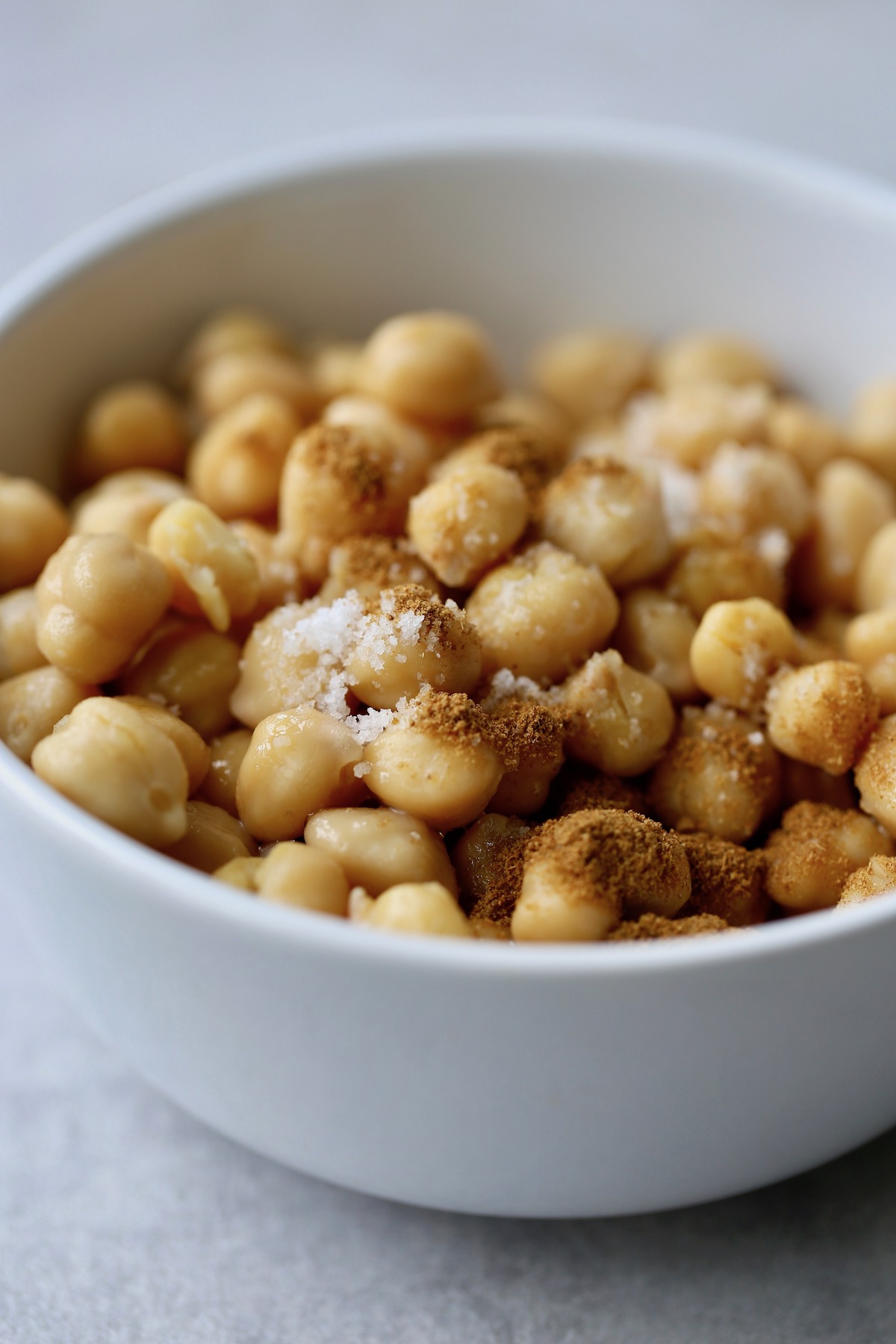 Roast at high heat. Lastly, you'll want to spread the oiled and seasoned chickpeas onto a baking sheet in a single layer. Roast them in the oven at a high heat, such as 425°F / 220°C, for 30-40 minutes, stirring half way through. You'll know they're done when they're golden brown and crispy!
Serving Suggestions
This sheet pan dinner only covers veggies and a plant-based protein source, so you'll need to think through what else to serve with the veggies and chickpeas.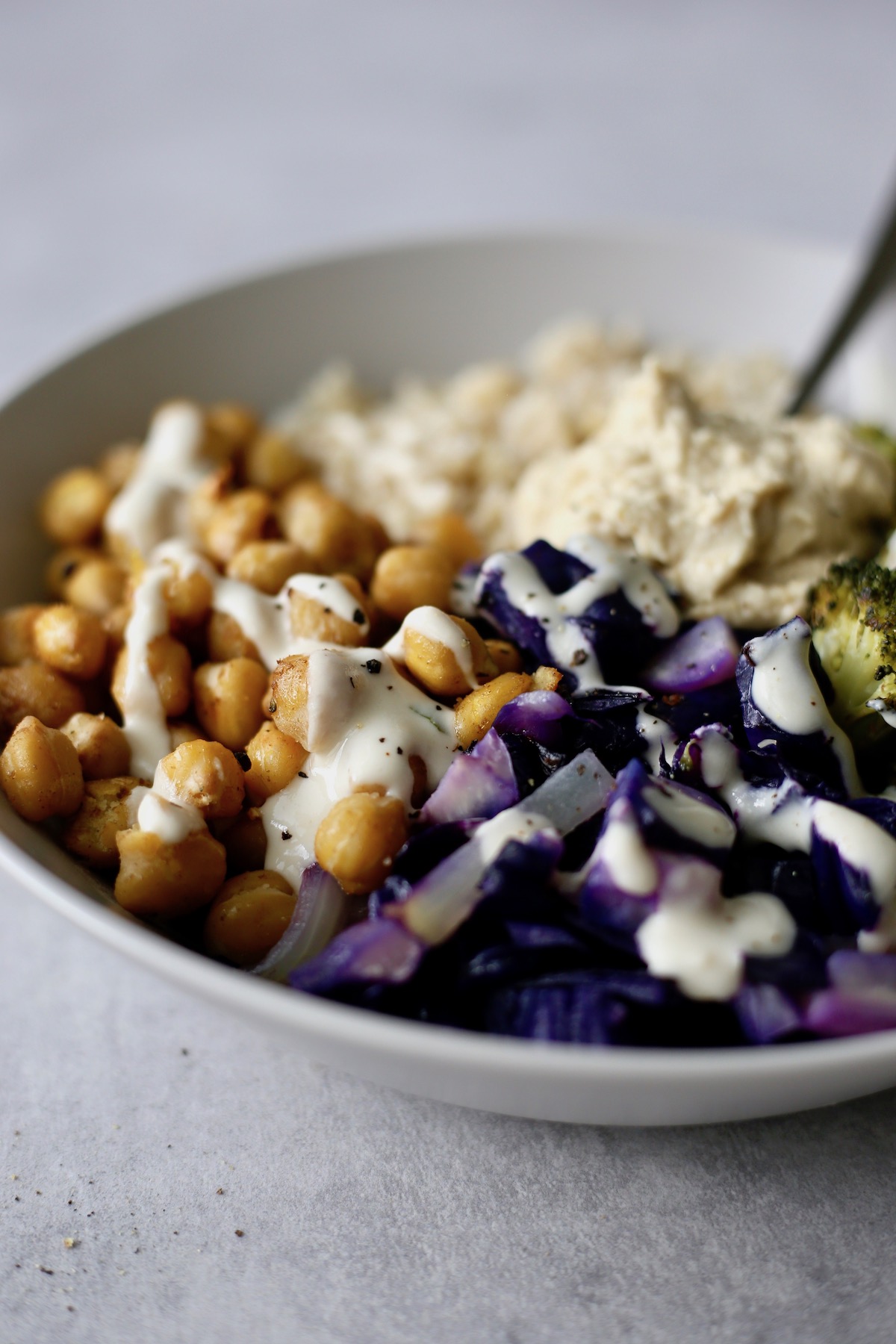 Here are some of my favorite foods to pair with this sheet pan recipe to round out the meal:
A grain: Brown rice, quinoa, couscous, etc.
A sauce: Lemon Miso Tahini Dressing, Vegan Caesar Dressing, balsamic glaze, vinaigrette dressing, etc.
Hummus: either the BEST Hummus recipe, Curried Carrot White Bean Hummus, Oil-Free Beetroot Hummus, or any store-bought hummus.
Alternatively, you could even serve the veggies and chickpeas in a wrap with some hummus and crispy lettuce.
I'd love to know if you give this simple, vegan sheet pan dinner a try and what you think. Leave a comment down below or rate the recipe by clicking on the stars in the recipe card.
If you enjoy the recipe be sure to share it with your friends as well!
PS If you like this kind of light and healthy meal, you'll love my 11 vegan Mediterranean recipes roundup!
📖 Recipe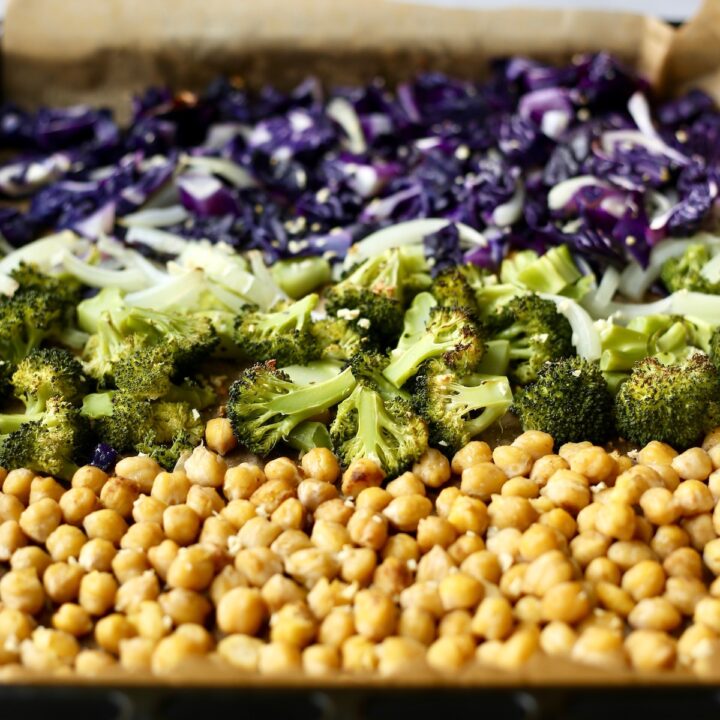 Chickpea and Broccoli Sheet Pan Dinner
Let your oven do most of the work with this quick and easy Chickpea and Broccoli Sheet Pan Dinner!
Instructions
Preheat your oven to

410

°F

and line 1-2 baking sheets with silicone baking mats, parchment paper or alternatively, spray them with cooking spray. Whether you use one or two sheet pans depends on the size of your oven and how crispy you want your chickpeas and veggies.

Drain and rinse your chickpeas. Pour them into a clean tea towel and pat them dry. The dryer they are the crispier they will be after baking.

In a large mixing bowl, or directly on your sheet pan, drizzle the broccoli, cabbage and onion with olive oil and sprinkle over the fresh garlic and sea salt. I like to keep the broccoli and cabbage separate incase they cook at different rates. Spread the veggies out into a single layer on the sheet pan with the chickpeas or a second sheet pan.

Roast the chickpea and veggies for 15 minutes. Toss everything separately and return the pans to the oven to bake for another 10-20 minutes or until everything is cooked through and the chickpeas are crispy.

Be sure to watch everything towards the end as the baking times may vary.
Notes
This sheet pan dinner only covers veggies and a plant-based protein source, so you'll need to think through what else to serve with the veggies and chickpeas. I like to add a grain and a sauce or hummus.
Nutrition
Calories:
165
kcal
Carbohydrates:
20
g
Protein:
6
g
Fat:
9
g
Saturated Fat:
1
g
Polyunsaturated Fat:
1
g
Monounsaturated Fat:
6
g
Sodium:
1243
mg
Potassium:
769
mg
Fiber:
6
g
Sugar:
7
g
Vitamin A:
2121
IU
Vitamin C:
197
mg
Calcium:
129
mg
Iron:
2
mg