Loaded with plant-based color, texture and flavor, Buddha Bowls are a delicious way to enjoy a well-rounded, plant-based meal with little effort. Today I'm going to show you how to build your own Buddha Bowl from start to finish!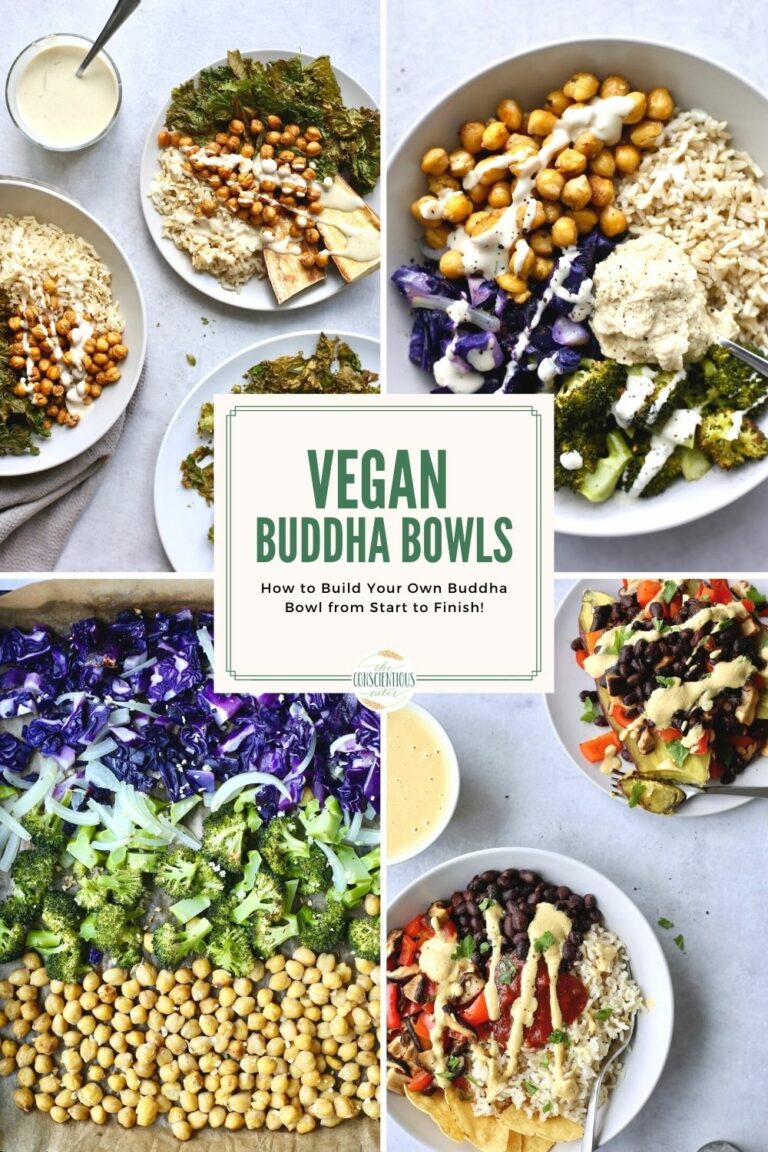 If you've never heard of the term "Buddha Bowl" (or "Nourish Bowl" as they're also called), you're weekly meal prep just got easier!
I've been cooking and creating Buddha Bowls long before the term became popular. So I'm super happy that this simple meal concept has become widespread and that others are realizing how easy it can be to plan and create a well-balance meal.
Today I'm going to explain what Buddha Bowls are and how you can build your own Buddha Bowl right in the comfort of your own home!
Let's jump in!
What are Buddha Bowls?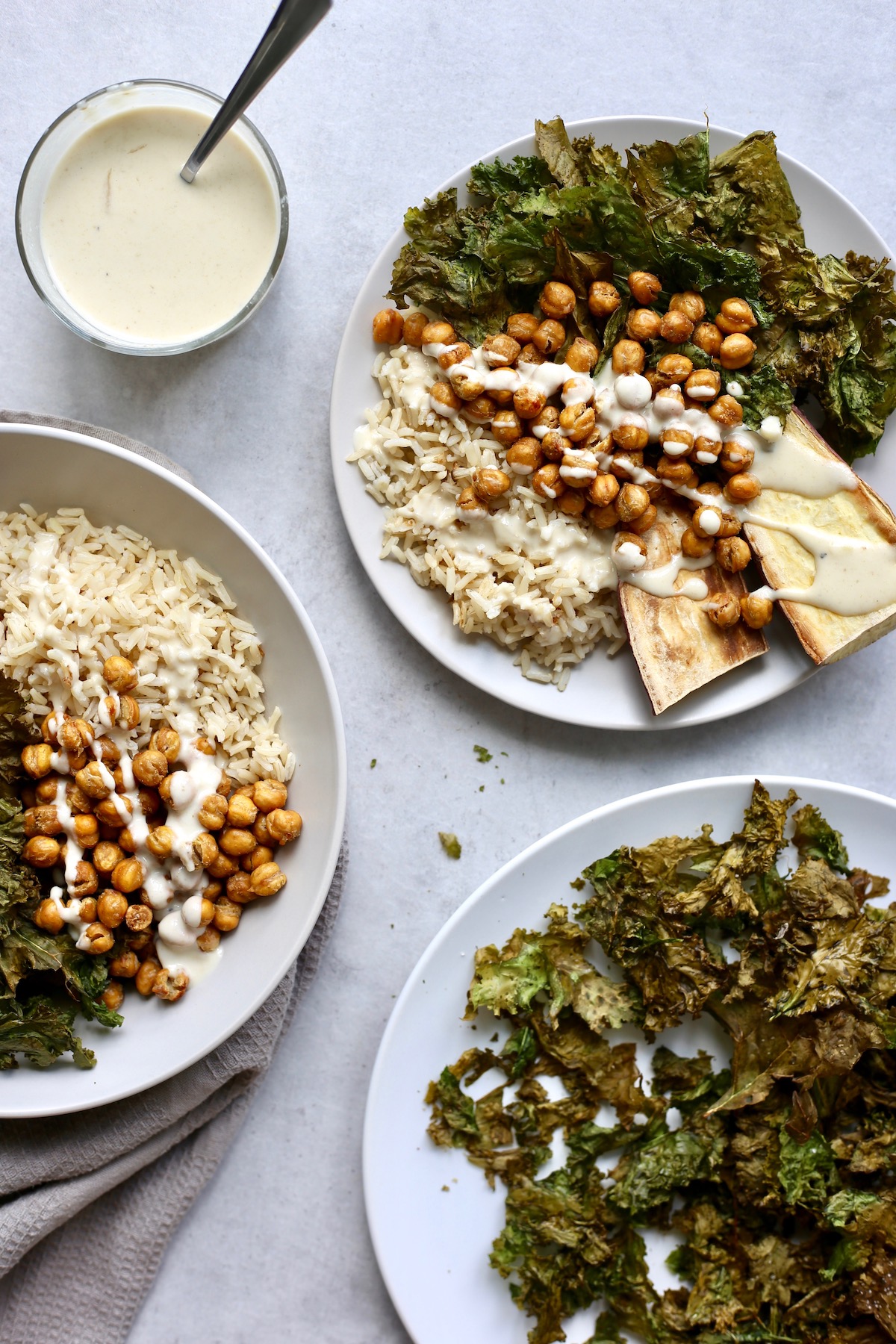 Buddha Bowls are basically all the components of a well-balanced meal thrown together to create a nourishing, flavorful bowl of food. They often consist of the following components:
A Base
A Protein
Vegetables
A Sauce
Toppings/garnishes
While Buddha Bowls are usually centered around plants, they aren't strictly vegan or vegetarian. Sometimes at a restaurant offering Buddha Bowls, the protein source options may include fish or chicken and the sauce may contain dairy, etc.
Today, however, I'll be showing you how to build your own plant-based Buddha Bowls!
How to Build a Buddha Bowl
As I mentioned above, Buddha Bowls usually consist of five difference components including a base, a protein, vegetables, a sauce and optional toppings and/or garnishes. The great thing about Buddha Bowls is that they incorporate the three main macronutrients (protein, carbs and fats) as well as micronutrients AND flavor!
Below I'll list out the different components of a Buddha Bowl:
The Base: The base of your buddha bowl is obviously the bottom layer of your meal. Usually it consists of a whole grains, greens or a combination of the two.
The Protein: Protein is important to think through when building a Buddha Bowl as it will keep you fuller for longer and is an essential macronutrient.
Veggies: Veggies add lots of color, texture and fiber to buddha bowls and can be prepared in a number of ways.
The Sauce: The bulk of flavor for your Buddha Bowl is going to come from the sauce that you drizzle on top of your base, protein and veggies. In my opinion, it's the most important part of building a flavorful and satisfying Buddha Bowl! You could use a store-bought sauce or dressing or create your own at home.
Toppings/Garnishes: To really jazz up your Buddha Bowl, you need to finish it off with some garnishes! While they are small, toppings and garnishes can take a Buddha Bowl from something simple to something extraordinary!
Basically Buddha Bowls are a great way to ensure you're getting protein, carbs, fats and veggies at every meal...plus lots of flavor!
Now that you're familiar with all the components of a Buddha Bowl, I'll share with you some of my favorite ingredients, cooking methods and recipes that I use on a regular basis when creating my own Buddha Bowls at home.
Vegan Buddha Bowl Base Ideas
Like I mentioned above, the base of your Buddha Bowl is the bottom layer of your meal. It can be a lighter option such as spinach, or it can be heartier thanks to whole grains. Even better, you can do a combination of the two!
Some popular vegan Buddha Bowl base options are as follows:
Romaine lettuce,
Spinach
Spring Mix
Quinoa
Rice (white or brown)
Couscous
However, you can also include pasta, noodles, potatoes and even bread/tortillas as possible Buddha Bowl bases.
Vegan Buddha Bowl Protein Sources
Commonly used plant-based Buddha Bowl protein sources are tofu, tempeh, beans, lentils, veggie burgers and faux meats.
When it comes to preparing your protein source, you can make it as simple as opening a can of beans or as complex as making your own homemade seitan.
I personally like to find a happy medium. In the past I would simply open a can of beans, drain and rinse them and use them cold. Now I like to put a little more effort into preparing my protein source by either adding spices to canned beans, marinating my tofu or tempeh or heating my protein source in the oven or on a skillet.
Below I'll share some easy vegan protein sources that are perfect for homemade Buddha Bowls!
Veggie Burgers
Faux Meats (store-bought or homemade seitan, veggie sausages, chick'n, etc.)
Canned Beans, drained and rinsed
Again, there is nothing wrong with using canned beans when you're in a pinch. Simply sprinkle on some salt, pepper and whatever fresh garnishes you have and you'll be all set!
How to Prepare Vegetables for Homemade Buddha Bowls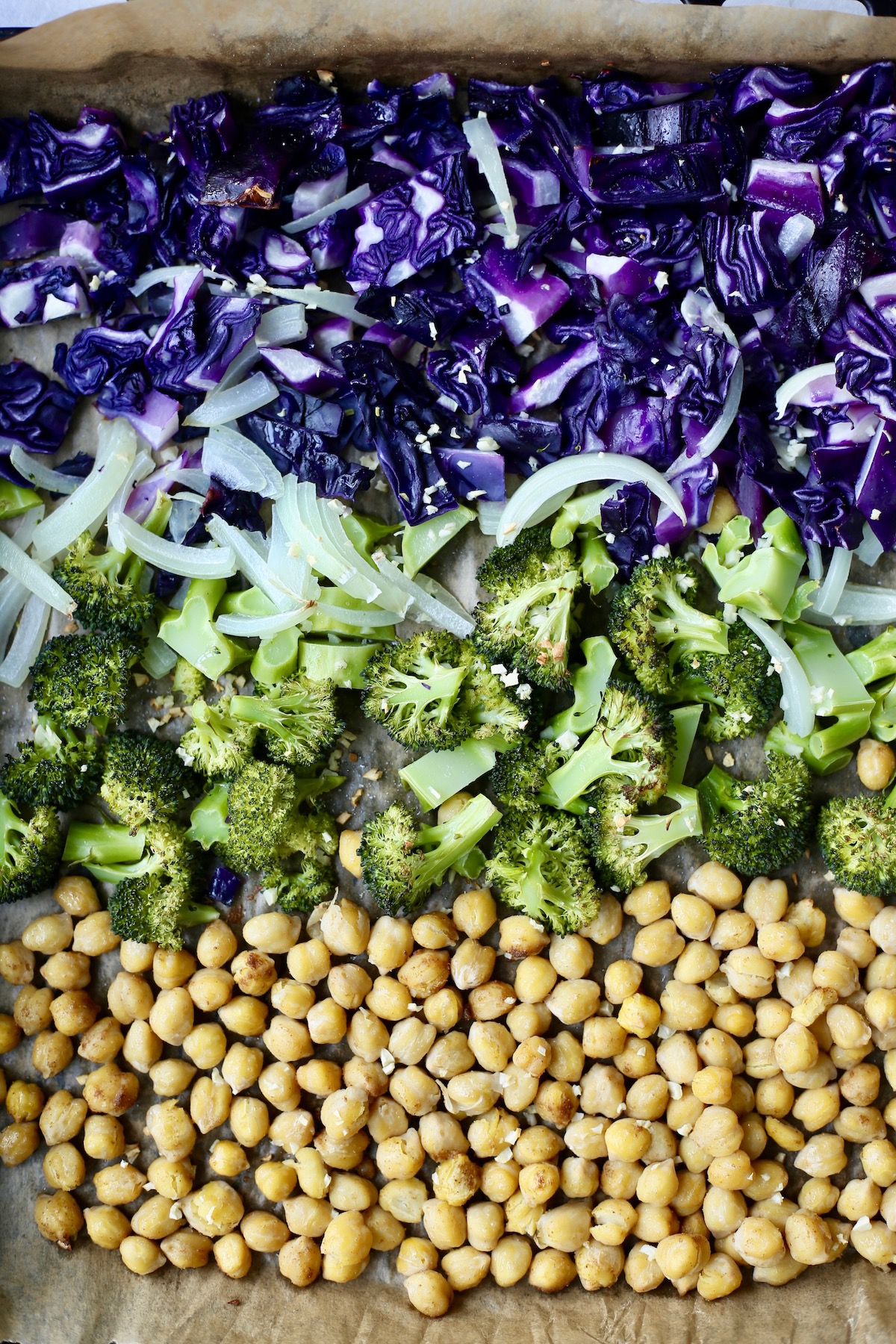 Veggies are super important when building a Buddha Bowl at home. They add texture, color, fiber and freshness. Oh, and of course important micronutrients!
When it comes to preparing your veggies for a buddha bowl, you can prepare them a number of different ways.
Raw Veggies: Raw veggies can provide lots of crunch and freshness to your Buddha Bowls. Consider cutting your raw veggies in a variety of shapes and sizes to add texture and variation. For example, you could add julienned cucumbers, shredded carrots and chopped tomatoes to a Buddha Bowl. You could rip up lettuce into smaller pieces. You could use a veggie peeler to make veggie "noodles" or use a spiralizer to create veggie noodles. Get creative!
Steamed or Sauté Veggies: Sautéing and steaming your vegetables is another great way to prepare veggies for a Buddha Bowl, especially if you want to add cooked veggies, but not a lot of extra fat.
Roasted Veggies: My personal favorite way to prepare vegetables for a Buddha Bowl is to roast them! Chop up your favorite hearty vegetables (such as broccoli, cauliflower, cabbage or carrots), drizzle them with a little olive oil and sea salt and roast them at 400F for 20-40 minutes. YUM!
Amazing Vegan Sauces to Help You Build a Buddha Bowl
I truly believe sauces are one of the most important components of building a flavorful and satisfying Buddha Bowl. Even if you only have a bowl of plain brown rice and canned beans, a delicious, creamy dressing can turn that boring bowl of food into something exciting!
Below I'll share some of my favorite sauces to drizzle on top of your homemade Buddha Bowl:
Vegan Cashew Parmesan Cheese
Another hack is to use store-bought or homemade hummus as a dressing. Simply place a large spoonful into a small bowl and thin it out with some water until it reaches your desired consistency. Drizzle it all over your Buddha Bowl and voilà! You're ready to dig in!
The Best Toppings and Garnishes for Buddha Bowls
Garnishes are small, but they pack a flavorful punch! I never paid much attention to garnishes in the past, but now I'm a firm believer in their power to take a Buddha Bowl to the next level.
You can see a list of simple garnishes and toppings below!
Fresh herbs (cilantro, parsley, green onion, chives, mint etc.)
Nuts (raw is great, but we love these Sweet and Spicy Roasted Cashews!)
Seeds (toasted is extra delicious!)
Fried onions
Chili flakes
Good quality oil (olive oil, truffle oil, toasted sesame oil, etc.)
Dried seaweed
Toasted coconut
Pickled red onions or cabbage
Sun-dried tomatoes
Salt and Pepper
Sprinkle one or two of these on your next Buddha Bowl and enjoy the added boost of flavor!
How to Build-Your-Own-Buddha Bowl
Now that you've got a good grasp on what a Buddha Bowl is and the 5 different components that make up a Buddha Bowl, you can start creating your own Buddha Bowls at home! It really couldn't be easier!
To make a Buddha Bowl at home, follow the the step-by-step instructions below:
Step 1: Choose your base. Place one or two of the base options listed above in the bottom of your bowl.
Step 2: Add your protein. To your base, add on your protein of choice.
Step 3: Incorporate veggies. Add 2-3 different veggies. If desired, cut and cook them in a variety of ways to add texture and variety!
Step 4: Drizzle on a sauce. Choose your favorite sauce and drizzle it all over the base, protein and veggies. Be generous or add more as you go!
Step 5: Sprinkle on a garnish. Complete your bowl with 1-3 garnishes!
Popular Buddha Bowl Combinations
I love to think through different cuisines and cultures when looking for inspiration for different Buddha Bowl combinations.
For example, you could create an Asian inspired Buddha bowl by thinking about the foods and flavors commonly enjoyed in Asia such as rice, edamame, seaweed and soy sauce!
I'll share a few of my favorite, go-to combinations below to help you get started.
Jasmine rice (base) + edamame (protein) + julienned carrots, bell pepper and cucumber (veggies) + spicy mayo dressing (dressing) + toasted sesame seeds (garnish)
Couscous (base) + Crispy Oven-Roasted Chickpeas + roasted broccoli (veggies) + Lemon Tahini Dressing + toasted slivered almonds
Brown rice (based) + black beans (protein) + sautéed mushrooms, bell peppers and onions (veggies) + Vegan Nacho Cheese Sauce (dressing) + salsa and cilantro (garnish)
Baked potato (based) + Three Bean Chili (protein) + roasted corn (veggies) + Vegan Sour Cream (dressing) + green onions (garnish)
Quinoa and Romaine (base) + Baked Falafel (protein) + roasted butternut squash (veggies) + Tapenade and Lemon Tahini Dressing (dressing) + fresh parsley and pickled red onions
I hope you guys can give this simple method for building your own Buddha Bowls a try. We use it often and it has really simplified our meal times!
If you have some favorite Buddha Bowl combinations, be sure to share them in the comments below!