Made with salty tempeh strips, crisp lettuce and juicy tomatoes, this Tempeh Bacon Sandwich is the best plant-based version of the classic BLT!
Jump to:
I wasn't planning on sharing this tempeh bacon sandwich recipe today, but the fact that I've been making tempeh bacon multiple times a week for the past couple months bumped it up to the top of my list. Y'all need to jump on the tempeh bacon bandwagon with me!
Try saying that 3x fast.
I've really been getting into tempeh recently. I honestly didn't love it the first time I tried it, but now I'm obsessed. I share that to show that, even if you aren't crazy about it at first, it may grow on you. I also think I didn't like it the first time I tried it because I didn't know how to make it taste good. Now, I could it eat uncooked and unseasoned…I love it that much. But of course it's even more delicious when it's seasoned, marinated and cooked properly. I shared the recipe for some amazing Peanut Orange Tempeh Bites not too long ago and they are amazing, so be sure to try out that recipe if you're new to tempeh. Yet while that recipe requires marinating and baking, this tempeh bacon only requires about 15 minutes from start to finish. Hence why we've been eating it non-stop. We love it on it's own, paired with tofu scramble for a savory breakfast or layered with veggies and avocado for an amazing sandwich like this TLT.
What is tempeh?
If you're still a little fuzzy on what tempeh is, check out my Baked Peanut Tempeh Bite recipe. I share a lot of information about tempeh there!
How do you make vegan bacon?
There are a couple of unique ways to mimic bacon in a plant-based way–including rice paper bacon— but today I'm sharing how I like to use tempeh to make vegan bacon. To make tempeh bacon, I slice my tempeh into bacon-like strips, brown both sides in some oil on a skillet and then add a sweet and smoky sauce which coats and caramelizes the tempeh strips. I really do think liquid smoke is the key ingredient when it comes to tempeh bacon, so be sure to get your hands on some the next time you're at the store!
BLT Meaning
If you're not familiar with a BLT sandwich then you're in for a treat! BLT stands for bacon, lettuce and tomato and those are the main ingredients that make up a BLT sandwich. Most people toast their bread before assembling their BLT, but you could also leave the bread soft if you like. Additionally, people will often add mayonnaise to add some creaminess to their sandwich. This blog is obviously a plant-based recipe blog, so there will be no real bacon or dairy mayonnaise in this recipe, but I'll be including all of the basic building block of a BLT with just a few optional twists.
Please let me know if you give this simple and delicious tempeh bacon sandwich a try and what you think! Leave a comment down below, rate the recipe and be sure to share it with your BLT loving friends!
Help The World Eat More Plants!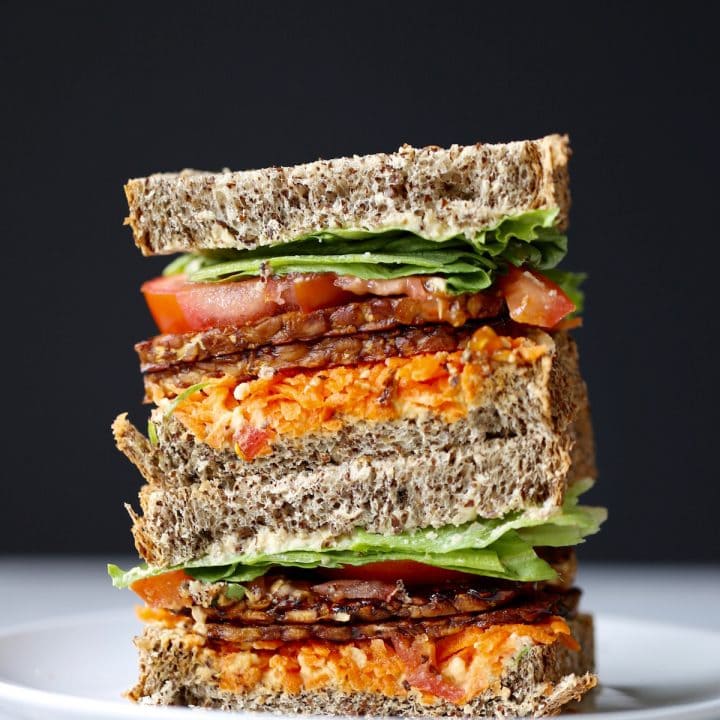 Tempeh Bacon Sandwich (TLT)
Made with salty tempeh strips, crisp lettuce and juicy tomatoes, this TLT sandwich is the best plant-based version of the classic BLT!
Ingredients
TEMPEH BACON:
1 block tempeh (about 250 grams)
1/4 cup less-sodium soy sauce*
2 tablespoons maple syrup
1/4-1/2 teaspoon liquid smoke
dash garlic powder
1 teaspoon olive oil
TLT SANDWICH:
4-6 slices of bread*
Lettuce
Tomato, sliced
1/2 Avocado or hummus
Shredded veggies
Instructions
Cut your tempeh into strips.
Heat a teaspoon of olive oil on a non-stick skillet over medium heat.
While the pan is heating, whisk together the soy sauce, maple syrup, liquid smoke and garlic powder. Set aside.
Once your pan is hot, spread the tempeh strips in a single layer on the pan to cook. Allow the strips to cook for a few minutes until golden brown before flipping them over to brown the other side.
Once both sides of the tempeh are brown, pour the sauce over the tempeh (you may not need to use it all!) and cook the tempeh for another few minutes or until both sides are coated in the sauce and the tempeh strips are caramelized. Remove the tempeh from the pan onto a plate.
To prepare your TLT, spread some hummus or avocado on bread and add lettuce, tomato, the tempeh bacon and whatever other veggies you desire.
Enjoy!
Notes
*To Make this sandwich gluten-free, use gluten-free bread and tamari instead of soy sauce!
Recommended Products
Nutrition Information
Yield

2
Serving Size

1 sandwich
Amount Per Serving
Calories

454
Total Fat

17g
Saturated Fat

3g
Trans Fat

0g
Unsaturated Fat

13g
Cholesterol

0mg
Sodium

2209mg
Carbohydrates

64g
Fiber

11g
Sugar

20g
Protein

17g
Nutrition information is a rough estimate provided by Nutrionix and should be used for informational purposes only.