This flavorful Vegan BLT Sandwich recipe is made with delicious tempeh bacon. It's fresh, savory and absolutely delicious!
Jump To
What is a BLT? Is it Possible to Have a Plant-Based Version?
If you're not familiar with a BLT sandwich then you're in for a treat!
BLT stands for bacon, lettuce and tomato and those are the main ingredients that make up a BLT sandwich.
Most people toast their bread before assembling their BLT, but you could also leave the bread soft if you like. Additionally, people will often add mayonnaise to add some creaminess to their sandwich.
This blog is obviously a plant-based recipe blog, so for this vegan BLT sandwich recipe I'll be showing you how to replace real bacon with tempeh bacon. Additionally we'll use dairy-free mayonnaise.
How do You Make Vegan Bacon?
There are a few unique ways to mimic bacon in a plant-based way. One way to make plant-based bacon is rice paper bacon. Another option for making plant-based bacon is coconut bacon.
A third way to make vegan bacon is tempeh bacon. That's what I'm going to show you today.
To make tempeh bacon you'll need to:
Slice the tempeh into bacon-like strips.
Brown both sides of the tempeh in some oil on a skillet.
Pour over a sweet and smoky sauce and continue to cook the tempeh until well coated and caramelized.
I really do think liquid smoke is the key ingredient when it comes to the sweet and smoky flavor, so be sure to get your hands on some the next time you're at the store!
What is Tempeh?
Tempeh is a soy product that originated in Indonesia. It's made by binding soybeans together through a fermentation processes, which results in a cake like product that has an earthy flavor. Unlike tofu, the soybeans in tempeh hold more of their original shape providing more dietary fiber, protein and vitamins.
Is Tempeh Good For You?
Tempeh is a nutrient-packed food. It's a great protein source for vegetarians and vegans. It contains prebiotics and is especially a good source of iron and calcium, which can sometimes be harder to come by when avoiding meat and dairy.
How Do You Pronounce Tempeh?
Say "tem" as in temperature and "peh" as in "payday".
What Else Can You Make With Tempeh?
I've really been getting into tempeh recently.
I honestly didn't love it the first time I tried it, but now I'm obsessed. I share that to show that, even if you aren't crazy about tempeh at first, it will probably grow on you. I also think I didn't like it the first time I tried it because I didn't know how to make it taste good. Now, I could it eat uncooked and unseasoned...I love it that much.
But of course it's even more delicious when it's seasoned, marinated and cooked properly. I shared the recipe for some amazing Peanut Orange Tempeh Bites before, so be sure to try out that recipe if you're new to tempeh.
I also love this Peanut Butter Tempeh and Broccoli Sheet Pan Dinner and this insanely easy Teriyaki Tempeh Recipe!
But honestly, this Vegan BLT Sandwich recipe is my all-time favorite way to enjoy tempeh, so I really hope you can give it a try!
Please let me know if you give this simple and delicious Vegan BLT Sandwich recipe a try and what you think!
Leave a comment down below, rate the recipe and be sure to share it with your BLT loving friends!
📖 Recipe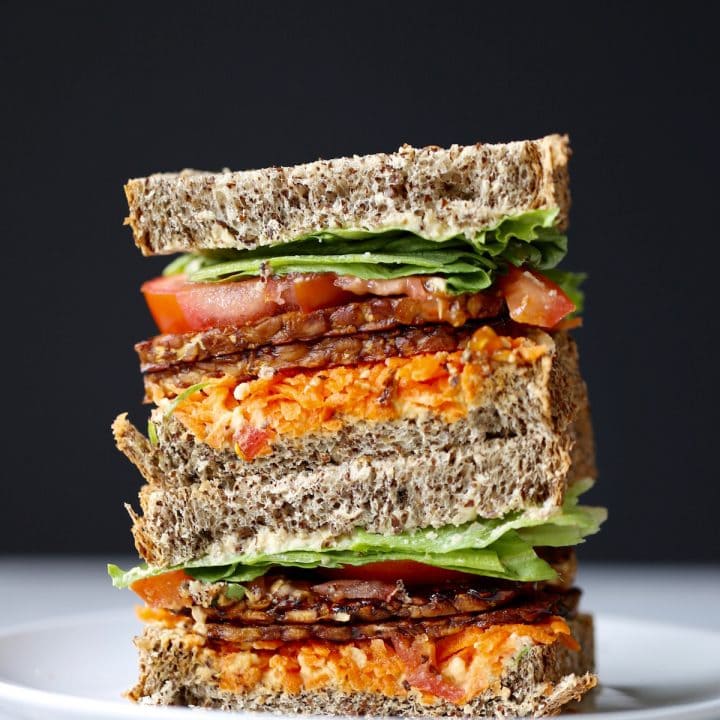 Vegan BLT Sandwich Recipe with Tempeh Bacon
Made with salty tempeh strips, crisp lettuce and juicy tomatoes, this Vegan BLT sandwich is the best plant-based version of the classic BLT!
Ingredients
TLT SANDWICH:
4

slices

of bread*

Lettuce

Tomato

sliced

Vegan mayo

avocado or hummus

Shredded veggies
Instructions
Cut your tempeh into strips.

Heat a teaspoon of olive oil on a non-stick skillet over medium heat.

Once your pan is hot, spread the tempeh strips in a single layer on the pan to cook. Allow the strips to cook for a few minutes until golden brown before flipping them over to brown the other side.

Once both sides of the tempeh are brown, pour the sauce over the tempeh (you may not need to use it all!) and cook the tempeh for another few minutes or until both sides are coated in the sauce and the tempeh strips are caramelized. Remove the tempeh from the pan onto a plate.

To prepare your TLT, spread some hummus or avocado on bread and add lettuce, tomato, the tempeh bacon and whatever other veggies you desire.

Enjoy!
Notes
*To make this sandwich gluten-free, use gluten-free bread and tamari instead of soy sauce!
Nutrition
Serving:
1
sandwich
Calories:
244
kcal
Carbohydrates:
42
g
Protein:
9
g
Fat:
5
g
Saturated Fat:
1
g
Polyunsaturated Fat:
1
g
Monounsaturated Fat:
2
g
Trans Fat:
0.01
g
Sodium:
1416
mg
Potassium:
238
mg
Fiber:
2
g
Sugar:
15
g
Vitamin A:
1
IU
Vitamin C:
0.1
mg
Calcium:
102
mg
Iron:
2
mg