Full of plant-based protein, melty vegan cheese and homemade taco tofu crumbles, these Vegan Breakfast Burritos are great anytime of day. Plus they are perfect for meal prep!
Jump To
I'm not usually a savory breakfast person, but these Vegan Breakfast Burritos have my heart!
Oh, and my husband is obsessed with them too, which makes them an instant winner in my book.
If you're on the look-out for a savory, high-protein plant-based breakfast option, then you need to try this recipe out.
These Vegan Breakfast Burritos are full of creamy refried beans, crispy taco tofu crumbles and melty vegan cheese.
Oh and did I mention they have roasted fajita veggies in them as well?!
Let me show you how to make them!
Ingredients
Thanks to some store-bought and pre-made ingredients, these breakfast burritos are super easy to make. I'll list out all of the ingredients you'll need below!
10" burrito-sized tortillas
Refried beans
Bell peppers
Onion
Vegan cheddar cheese
Salsa
The above ingredients are what you'll need to make these freezer-friendly vegan breakfast burritos. However, if you're not freezing these burritos, but instead enjoying them right away, you can also add on some fresh avocado and cilantro to your burritos as well!
How to Make Vegan Breakfast Burritos
You're in luck, because your oven is going to do most of the cooking for these vegan breakfast burritos! Below I'll walk you through each step you'll need to take to make these breakfast burritos.
Feel free to double/triple/quadruple this recipe and freeze these burritos for easy breakfast and/or lunches on the go!
Step 1: Start by preheating your oven to 400°F / 200°C and greasing two baking sheets with cooking spray. Set the baking sheets aside.
Step 2: Make your vegan taco tofu crumbles. Press two blocks of extra firm tofu for about 15 minutes. While the tofu is being pressed, whisk together the marinade. Next, crumble the pressed tofu into the marinade and stir everything well so that all the tofu is coated in the marinade. Pour the tofu out onto your greased baking sheet and spread it out into a single layer. Place the tofu into the oven to bake for about 40 minutes, stirring after 20 minutes, until browned and slightly crispy.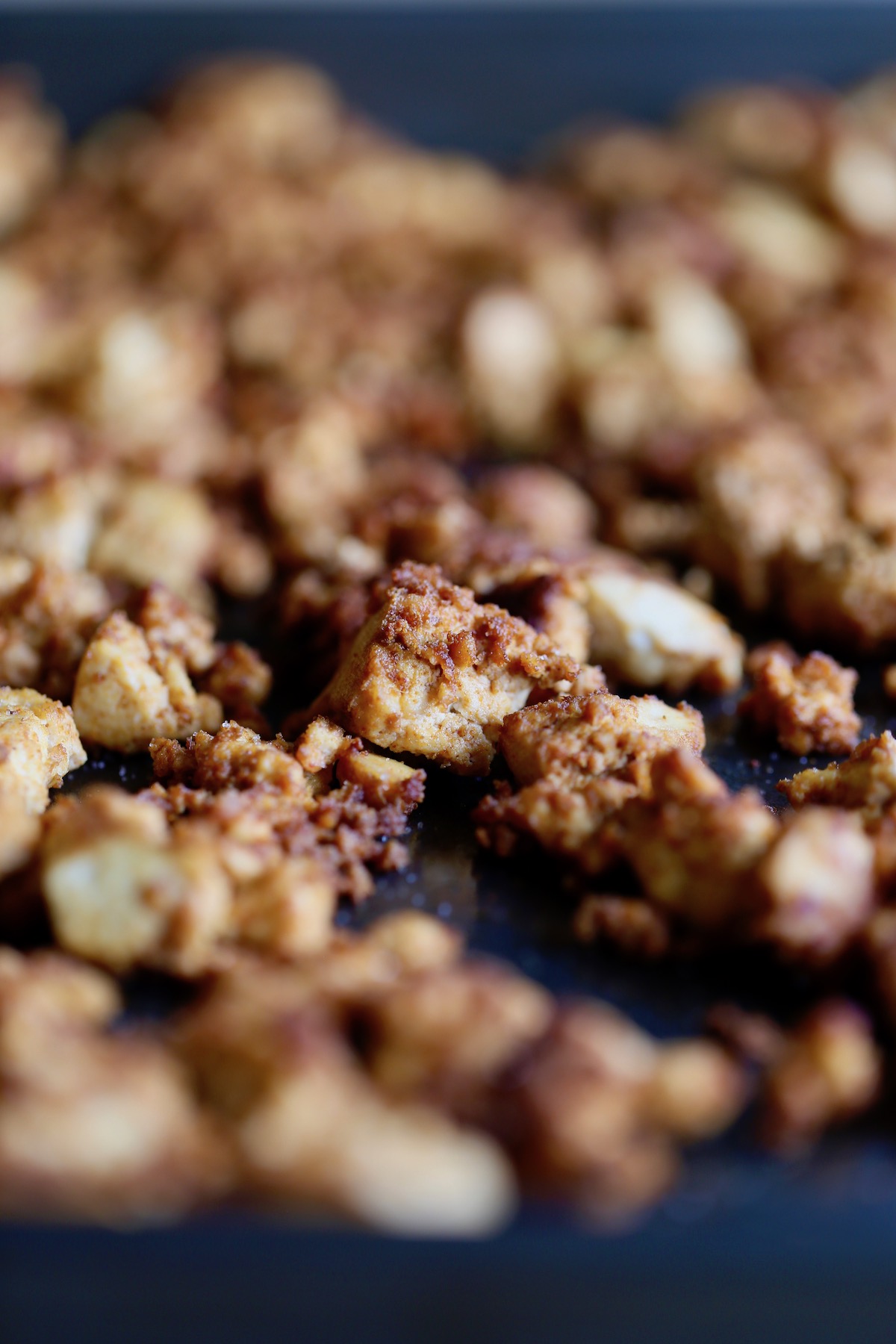 Step 3: Once you have your tofu in the oven, slice your bell peppers and onions. Place them on the second greased baking sheet and drizzle them with some olive oil and sprinkle them with salt. Use your hands to stir everything together, ensuring that the veggies have all been coated in the olive oil and salt. Place the veggies in the oven for about 35 minutes, stirring after 20 minutes, until they are soft and slightly charred.
Step 4: Once the tofu and veggies have finished cooking, you can assemble your breakfast burritos. Place a large tortilla on a flat surface. Spread a layer of refried beans down the middle of the tortilla. Then add on some of the taco tofu crumbles, roasted veggies, vegan shredded cheddar cheese and salsa. Roll up the burrito and continue this process until you have about 8 breakfast burritos. If desired, you can cook each burrito on a hot skillet coated in a little oil until browned on the outside.
How to Freeze Homemade Burritos
Liked I've mentioned, these vegan breakfast burritos freeze beautifully. You could make a batch or two at the start of the month, freeze them and then reheat them whenever a burrito-craving hits!
To freeze homemade burritos, place your completed burrito onto a large square of aluminum foil. Wrap the burrito tightly in the aluminum foil and place it inside of a freezer-safe zip-lock bag or reusable silicone freezer bag.
How to Reheat Frozen Burritos
Then, when you want to enjoy one of your homemade vegan breakfast burritos, you simply remove it from the freezer and remove the aluminum foil.
Microwave: Place the burrito on a microwave safe plate, cover it with a paper towel and microwave it for about 4-6 minutes or until heated through. Every microwave is different, so you can always start with less time and add more as needed!
Oven: If you don't own or like using a microwave, you can also reheat your burrito in the oven. Once you've unwrapped the burrito, place it on a baking sheet and bake it in the oven at 400F for about 30-40 minutes.
More Meal Prep Ideas
Meal prep is a game-changer and life-saver for busy people! If you like to start your week off prepared for meals, check out the following articles:
Also, I've done a TON of meal prep videos on my Youtube channel.
📖 Recipe
Vegan Breakfast Burritos Recipe
Full of plant-based protein, melty vegan cheese and homemade taco tofu crumbles, these Vegan Breakfast Burritos are great anytime of day!
Ingredients
BURRITOS
3

bell peppers

sliced

1

onion

sliced

8

10" tortillas

2

cans

refried beans

1

block

vegan cheddar cheese

about 7 oz, shredded

1

cup

store-bought or homemade salsa
Nutrition
Calories:
252
kcal
Carbohydrates:
37
g
Protein:
8
g
Fat:
8
g
Saturated Fat:
2
g
Polyunsaturated Fat:
2
g
Monounsaturated Fat:
4
g
Sodium:
1211
mg
Potassium:
310
mg
Fiber:
6
g
Sugar:
7
g
Vitamin A:
1861
IU
Vitamin C:
59
mg
Calcium:
115
mg
Iron:
3
mg