This Date Sweetened Nutty Apple Granola is crunchy, nutty and perfectly sweetened with dates and apples alone!
The importance of healthy ingredients
Ever since I met my husband Brett I've known him as someone who makes conscious decisions on what he eats. In fact, when I first started to get to know Brett I remember thinking, "Yes! A guy who actually cares about eating healthy!" He ate yogurt and granola for breakfast, drank fruit and veggie juices instead of soda, and had frozen fish in his freezer. Most of the guy friends I had at the time scoffed at the idea of granola and either skipped breakfast or grabbed McDonalds on their way into work.
Yeah, it was love at first sight...or, uh, grocery list.
Yet as I've continued along my vegan/plant-based journey, I've learned so much more about what actually constitutes as healthy (at least in my opinion). Now I don't care about the nutritional claims that packages make, such as low-fat, sugar-free, zero carbs, but instead I care about ingredients.
To be honest, I ideally like to eat whole foods that don't even require ingredients labels. You know, foods like sweet potatoes, apples, carrots, spinach, rice, oatmeal, etc.
Brett, however, still has some favorites that he'd rather not give up anytime soon.
Granola is one of those things. He loves it and eats in most mornings on top of greek yogurt and sometimes even with milk before bed. 
Let me be clear in the fact that I don't think there is anything wrong with granola. But certain brands of granola can have quite a bit of processed sugar, and that's something both Brett and I like to stay away from.
Enter in: Date Sweetened Granola!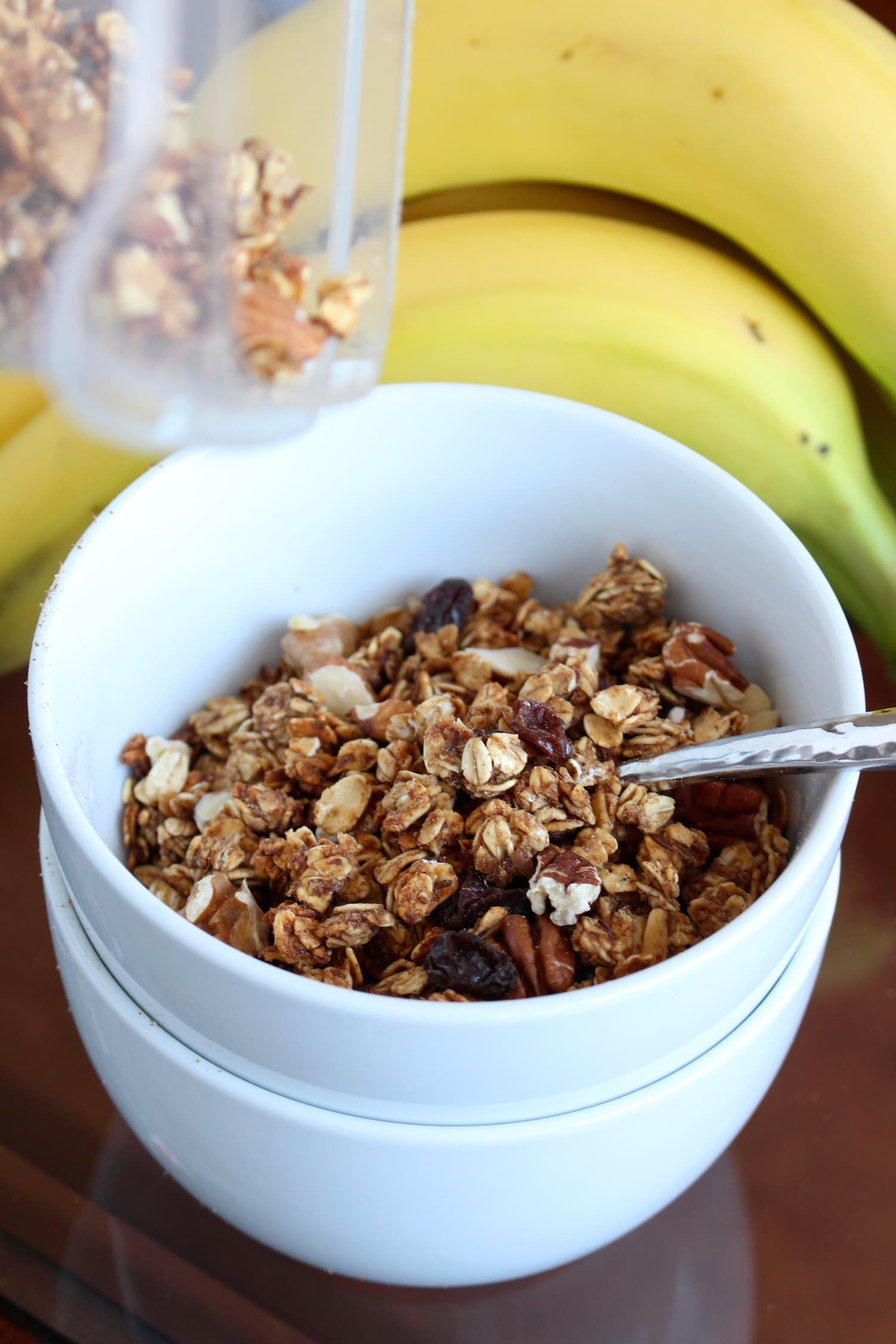 Dates are amazing aren't they? Chewy, sweet, sticky, and straight from the earth. They are a dessert on their own in my opinion and can be jazzed up so easily with your favorite nut butter drizzled on top.
Or...you can sweeten granola with them!
I'm so happy with how this Date Sweetened Granola turned out! I was worried it would be chewy and not crunchy -- which is how Brett and I like our granola -- but it hardened up beautifully and is just sweet enough for my taste.
You can easily personalize this granola by choosing your favorite nuts or dried fruit to add in.
Get creative!
Yield:

8 cups
Date Sweetened Nutty Apple Granola
Total Time:
1 hour
5 minutes
This Date Sweetened Nutty Apple Granola is crunchy, nutty and perfectly sweetened with dates and apples alone!
Instructions
Preheat your oven to 325 degrees and line two baking sheets with silicone baking mats or parchment paper.
In a large bowl mix together the oatmeal, flaxseed and salt. (Don't add in the nuts!)
In a saucepan over medium-low heat combine the chopped medjool dates, chopped apple, water, cinnamon and nutmeg. Heat the date mixture until the dates practically dissolve and the apple becomes soft, stirring often. Place the date and apple mixture into a food processor or blender and process until a smooth paste forms.
Pour the date/apple mixture over the oats and stir well to make sure all of the oats are coated.
Spread the oat mixture evenly over your two prepared baking sheets and bake for 15 minutes. Stir, rotate the pans, and bake for 10 more minutes.
After 25 minutes of baking, remove the pans and add in your chopped nuts. Stir. Bake 20 more minutes, stirring half way through.
Remove the pans and allow the granola to cool. Add in the raisins and store in an airtight container.
Notes
*I used ½ cup walnuts, ½ cup almonds, ½ cup pecans.
**Use whatever dried fruit you like best!
Nutrition Information:
Yield:
16
Serving Size:
½ cup
Amount Per Serving:
Calories:

98
Total Fat:

7g
Saturated Fat:

1g
Trans Fat:

0g
Unsaturated Fat:

5g
Cholesterol:

0mg
Sodium:

102mg
Carbohydrates:

8g
Net Carbohydrates:

0g
Fiber:

2g
Sugar:

5g
Sugar Alcohols:

0g
Protein:

3g
Nutrition information is a rough estimate provided by Nutrionix and should be used for informational purposes only.