With over 150+ positive reviews, these super Fudgy Sweet Potato Brownies are a dessert that will quickly become a family favorite. Sweetened with mashed sweet potato and maple syrup, these vegan brownies are a delicious and healthy vegan treat for any time of day!
Because I love vegan brownies so much, I've found healthier ways to enjoy brownies all throughout the day. I often start my day with a bowl of Vegan Brownie Batter Baked Oatmeal or a couple of Tahini Brownie Bites. Then, to end the day, I love to have a Flourless Almond Butter Brownie or one of these incredibly fudgy sweet potato brownies!
With over 150+ positive reviews, I know you guys will quickly fall in love with these vegan sweet potato brownies as well!
Jump To
Why You'll Love This Recipe!
If you have some extra baked sweet potato lying around, this recipe only takes about 10 minutes to prepare
It's sweetened naturally with only sweet potato and maple syrup.
These brownies taste even better the longer they chill in the fridge...hello fudge!
They're sweet enough for dessert and wholesome enough for breakfast.
Ingredients
Sweet Potato: The next time you bake sweet potato, bake some extra to use for these vegan brownies! You'll want the sweet potato to cool and to remove the skin.
Almond Butter: Almond butter is a neutral flavored nut butter that adds richness to these brownies. I also use almond butter in my Vegan Date Brownies!
Coconut Flour: You may not have this ingredient on hand, but you should be able to find it at any local grocery store!
See recipe card below for a full list of ingredients and measurements.
Substitutions & Variations
Good news is that if you don't have all of these ingredients on hand, I (and my blog readers) have all found this recipe to be fairly forgiving / flexible.
Almond Butter- really any other kind of nut or seed butter should work fine. I personally love using peanut butter as it's inexpensive and I love the combination of chocolate and peanut butter! But if you can't eat nuts, try tahini or sunflower seed butter or make my Vegan Tahini Brownies!
Sweet Potato - yes, you can actually replace the main ingredient in this recipe. I've made these brownies with mashed banana instead of sweet potato and they still turned out fine. You'll just need to increase the amount of coconut flour to ½ cup as mashed banana is a little more liquid-y than sweet potato.
Coconut Oil - melted vegan butter or another kind of neutral oil should work if you don't have coconut oil on hand. I like coconut oil best, however, because it hardens once chilled so it turns these brownies into fudge if you store them in the fridge.
Coconut Flour - I haven't tried this personally, but some readers have commented that almond flour worked instead of the coconut flour.
Dark Chocolate - I love to use a dairy-free chocolate bar and chop it up into chocolate chunks, but you can also just use vegan chocolate chips. Really any kind of mix-in would work! Try chopped nuts, dried fruit, or a combination of all of them for tons of texture!
How to Make Vegan Sweet Potato Brownies
Below is an overview of the baking process with photos. Detailed instructions are in the recipe card.
Step 1: Preheat your oven to 350°F / 175 °C and line a loaf pan with parchment paper. Set it aside.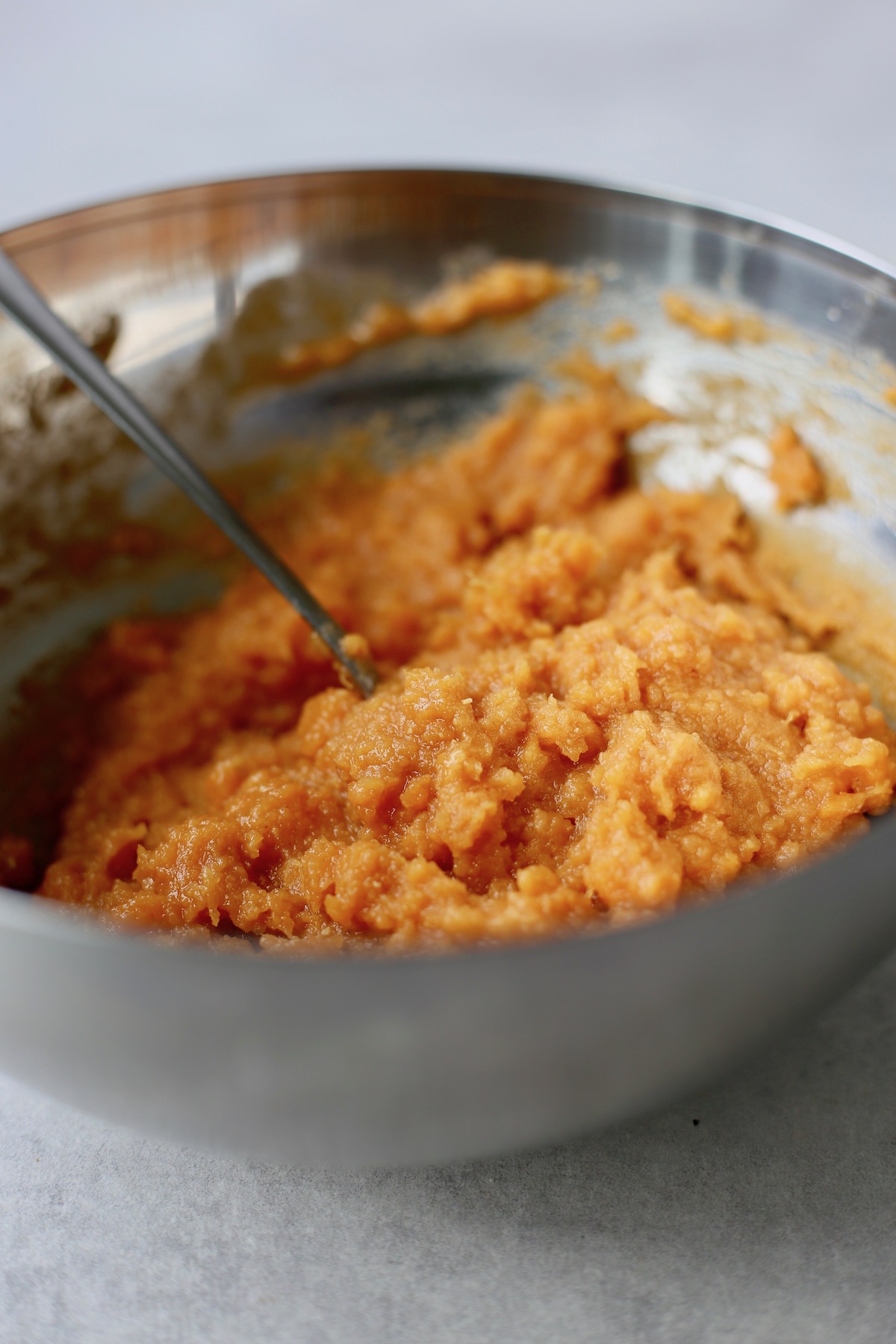 Step 2: To start, you'll need to bake some sweet potatoes in the oven until soft and gooey on the inside. Remove the skins and mash them in a bowl, setting aside 1 cups worth for this brownie recipe.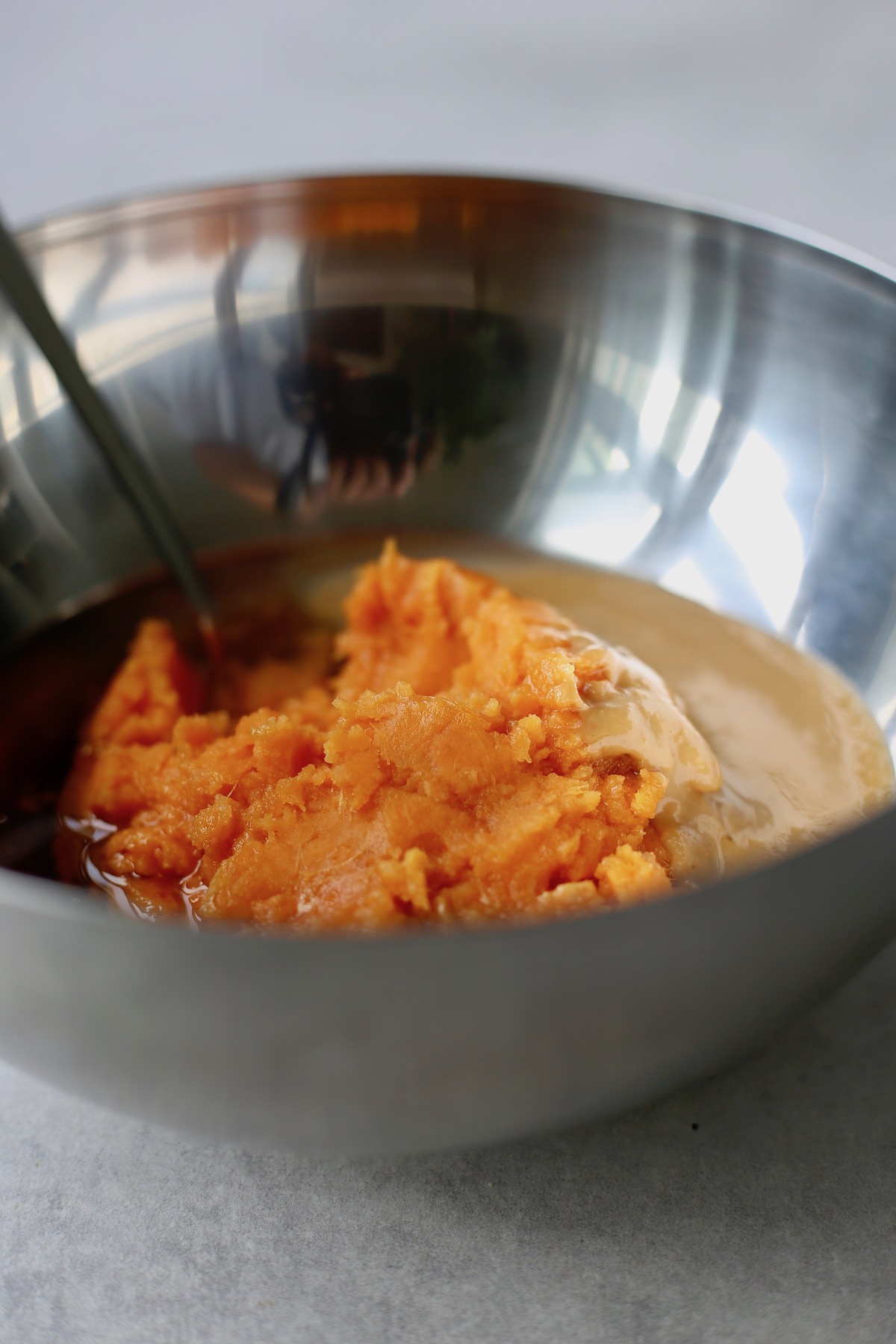 Step 3: In a large mixing bowl, combine the mashed sweet potato, maple syrup, almond butter, coconut oil and vanilla in a bowl and stir until smooth.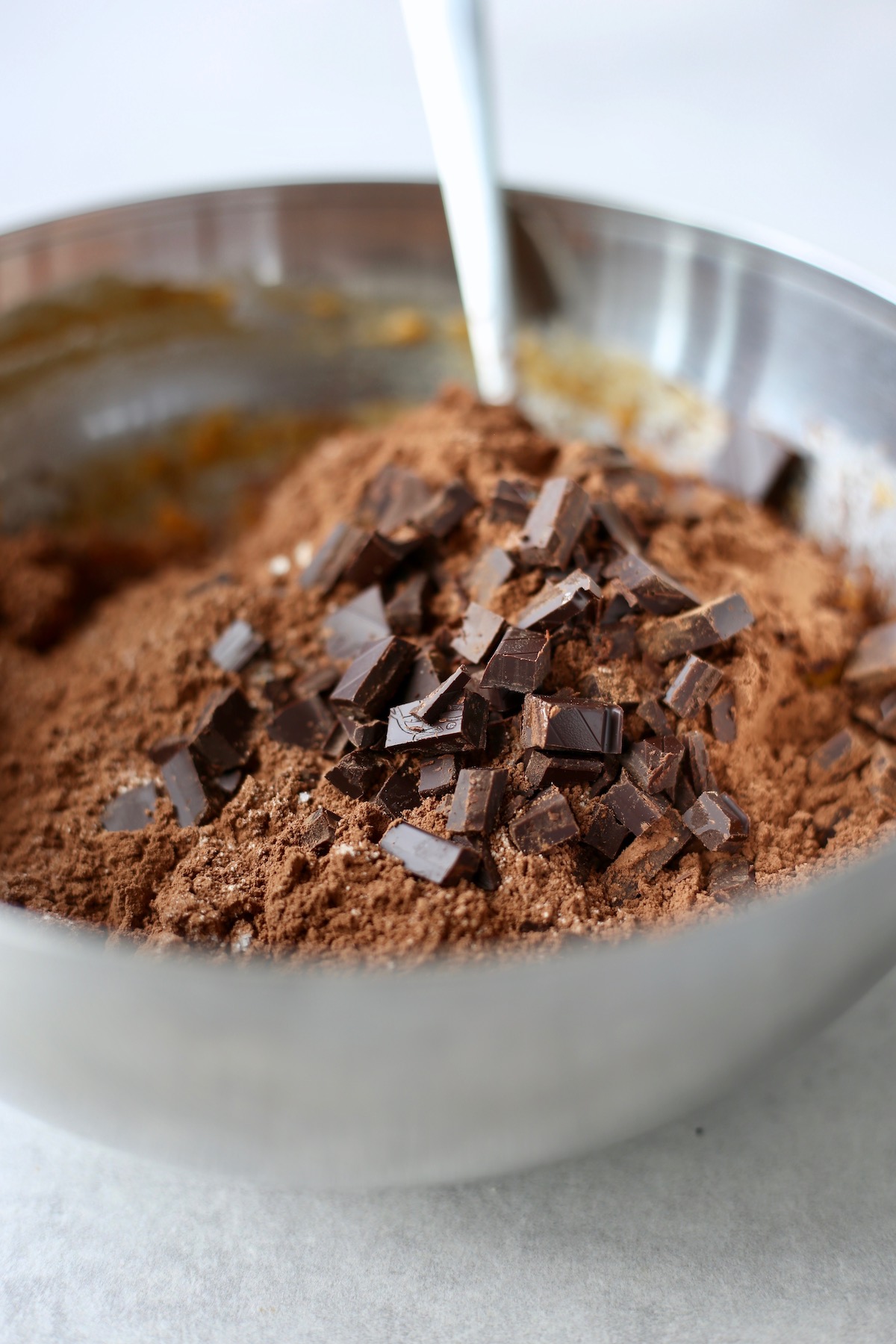 Step 4: Add in the remaining dry ingredients, including cocoa powder, coconut flour, sea salt and chocolate chips or chunks. Stir everything together until a uniform batter forms.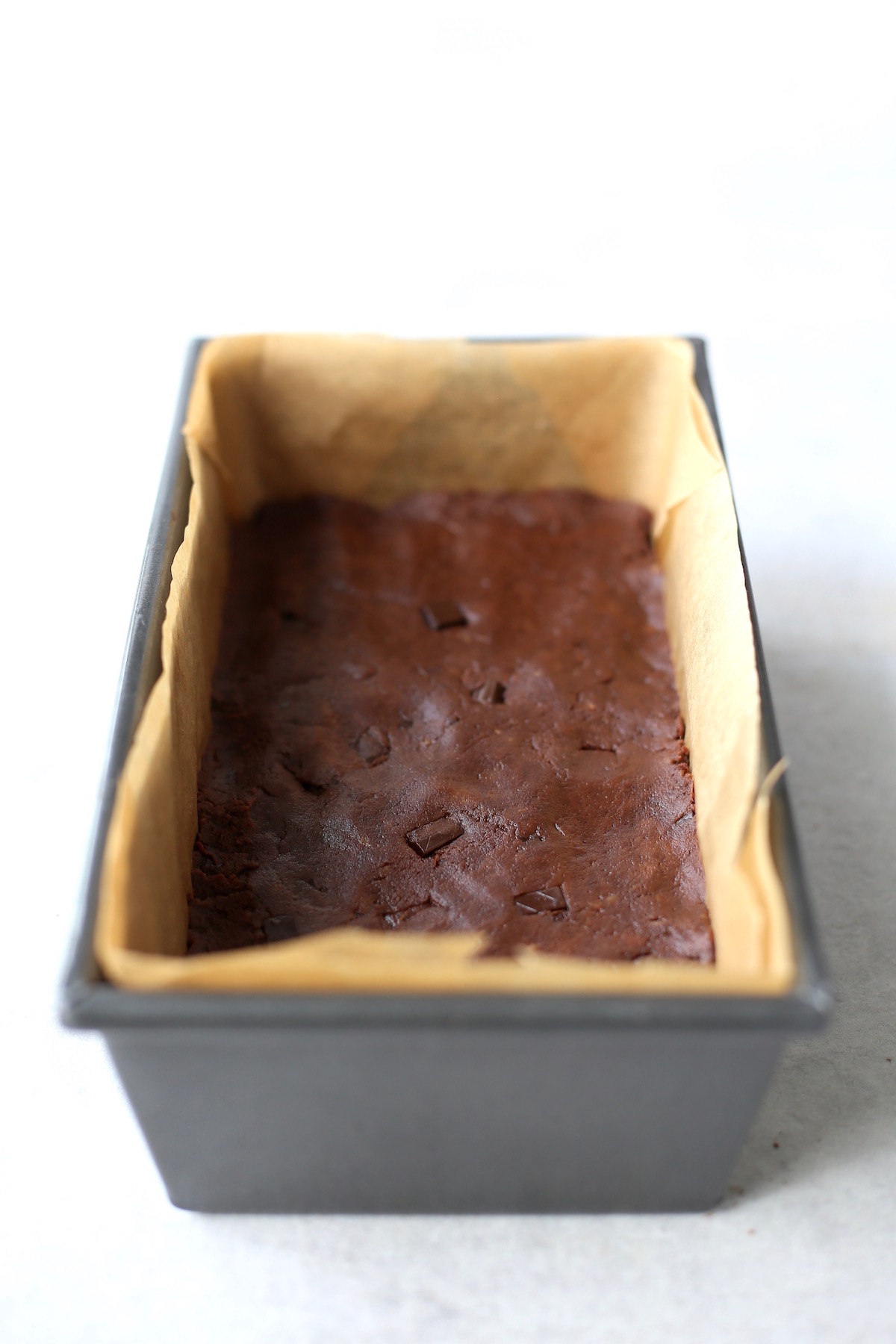 Step 5: Pour the batter into your prepared loaf pan and smooth out the top. Bake the brownies for 25-28 minutes or until a knife inserted into the center comes out clean.
Expert Tips
Whenever I'm taking the time and electricity to bake sweet potatoes, I always baked a few extra so I can make a batch (or two!) of these brownies. That way when the craving hits, I don't have to start by taking an hour to bake the potatoes.
This is a great recipe if you need a vegan, soy and gluten-free dessert to share with friends!
Don't eat these brownies right out of the oven! Allow them to cool completely and then store them in the fridge overnight. As they chill, the coconut oil solidifies and turns these brownies into the fudgiest vegan brownies you'll ever eat!
Recipe FAQs
Are sweet potato brownies vegan?
These brownies are vegan! There are no eggs in this recipe as coconut oil and sweet potatoes help to bind everything together. There is also no milk.
Are sweet potato brownies gluten-free?
This recipe is gluten-free! The only flour used is coconut flour, which is naturally gluten-free.
What do sweet potato brownies taste like?
These sweet potatoes don't taste like sweet potatoes. Instead, they taste like rich, decadent fudge!
How long do sweet potato brownies last?
When stored in an airtight container in the fridge, these brownies should last for at least 1 week, possibly up to two. Alternatively, you can even freeze them for up to 3 months.
How do I make my brownies fudgy?
Chill these brownies in the fridge overnight at the coconut oil will harden, turning these sweet potatoes into fudge!
More Brownie Recipes You'll Love
Love this recipe? Please leave a 5-star 🌟🌟🌟🌟🌟 rating in the recipe card below & a review in the comments section further down the page.
📖 Recipe
Fudgy Sweet Potato Brownies (Vegan and GF!)
Sweetened with mashed sweet potato and maple syrup, these Fudgy Sweet Potato Brownies are delicious and healthy treat for any time of day!
Equipment
Amazon Basics Nonstick Baking Bread Loaf Pan, 9.5 x 5 Inch, Set of 2
Instructions
Preheat your oven to

350

°F

and line a loaf pan with parchment paper.

Next mix in the

cocoa powder

, coconut flour and sea salt until a uniform batter form.

Pour the batter into your prepared

loaf pan

and press down the batter until level.

Bake the brownies for 25-28 minutes or until a knife inserted into the center comes out clean.

Allow the brownies to cool in the loaf pan before using the

parchment paper

to carefully remove the brownies from the pan and cut them into squares.

Store any leftovers in an airtight container for up to a few days.
Notes
- I always baked extra sweet potatoes whenever I'm baking them so that this recipe can come together super quickly.
- Use any nut or seed butter you desire instead of almond butter.
- Readers have also mentioned almond flour works as a good substitute for coconut flour.
- Allow these brownies to chill overnight to get the fudgiest texture!
Nutrition
Calories:
250
kcal
Carbohydrates:
28
g
Protein:
5
g
Fat:
16
g
Saturated Fat:
9
g
Polyunsaturated Fat:
1
g
Monounsaturated Fat:
3
g
Sodium:
23
mg
Potassium:
330
mg
Fiber:
6
g
Sugar:
14
g
Vitamin A:
6726
IU
Vitamin C:
7
mg
Calcium:
73
mg
Iron:
2
mg