Combining two classic ingredients and hearty rolled oats, this Peanut Butter Banana Baked Oatmeal recipe is perfect to meal prep and enjoy throughout the week!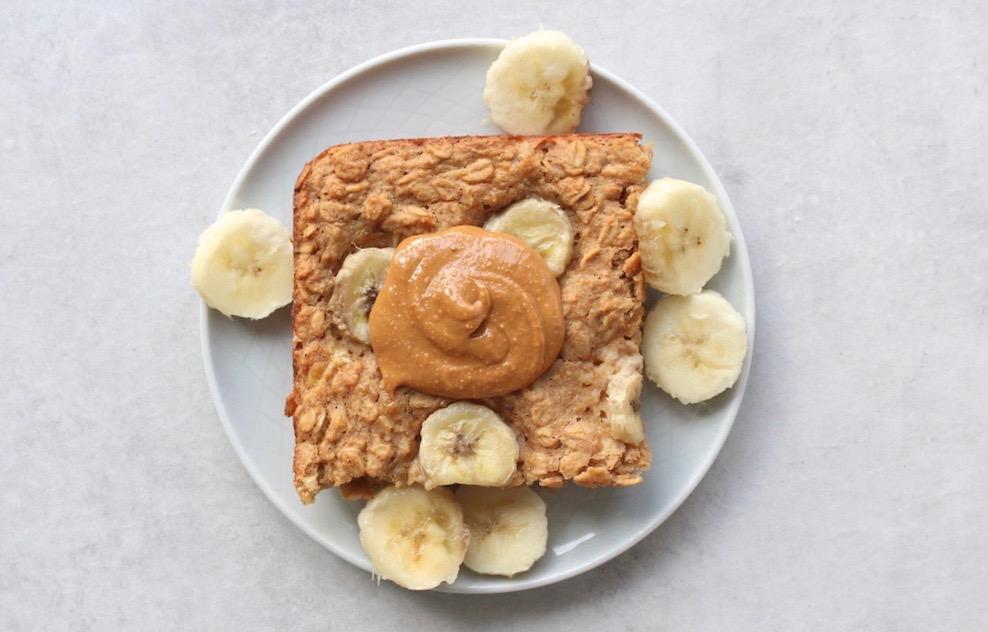 Jump To
It's safe to say my family is obsessed with peanut butter, bananas, and oatmeal.
We consume all three of these ingredients most mornings for breakfast in some form and still aren't sick of them.
They seriously are the best food combination! For example:
And sometimes we enjoy this Peanut Butter Banana Baked Oatmeal...with more peanut butter and banana of course!
How to Make Baked Oatmeal
While I don't make it every morning, baked oatmeal is my favorite way to eat oatmeal. If you like cake or any item that comes out of an oven, then I know you'll love this oatmeal.
Instead of a creamy, soupy texture like oatmeal cooked on the stove top, baked oatmeal is denser and chewy.
You can slice it and serve it like a piece of cake, topped with all your favorite spreads and fruit.
Yum!
Steps for Making Baked Oatmeal
The process for making a good baked oatmeal recipe looks like this:
Step 1: Start by whisking together the wet ingredients in a large mixing bowl, including any sugars, spices and salt.
Step 2: Then add in rolled oats and any mix-ins you desire, such as shredded vegetables, sliced or chopped frozen, fresh or dried fruit as well as any nuts or seeds.
Step 3: Pour the batter into a greased baking dish and use a spoon to make the batter nice and level. You want to make sure the oats and liquid are evenly distributed.
Step 4: Bake the oatmeal until it's firm and set.
Step 5: Slice and serve with your favorite toppings!
Ingredients You'll Need for Peanut Butter Banana Baked Oatmeal:
Get excited! I'm pretty sure you already have all of the ingredients needed for this Peanut Butter Banana Baked Oatmeal recipe. That means you can make this delicious recipe ASAP!
Here are the ingredients you'll need:
As for oat flour, here's a quick tip...don't buy it!
It's way too expensive when you buy it from the store and it's so easy to make.
How to Make Your Own Oat Flour
Making oat flour at home is incredibly simple. Here's a quick make-at-home recipe to follow:
I make and use oat flour all the time in my baking. Some of my favorite recipes that call for it are these Healthy Chocolate Breakfast Muffins, Vegan Chocolate Oat Flour Waffles and these Zucchini Carrot Oatmeal Breakfast Muffins.
Best Toppings for Peanut Butter Banana Baked Oatmeal
Even though some of my favorite ingredients are already inside of this peanut butter and banana baked oatmeal, I still love to add toppings.
I'll give you a list of some of my favorite baked oatmeal toppings that you can try out on this pb and banana baked oatmeal below:
More peanut butter (can you ever have enough?!)
Other nut/seed butter
More banana (again, is there ever enough?)
Jelly
Other fresh fruit
Or you can just eat this oatmeal as is!
It's delicious!
More Baked Oatmeal Flavors
When it comes to baked oatmeal, the flavor possibilities are truly endless. I have a number of different baked oatmeal recipes on the blog that you can try out.
However, don't limit yourself to these flavors. Think about your favorite ingredients or flavor combinations and get creative with your own family recipe!
📖 Recipe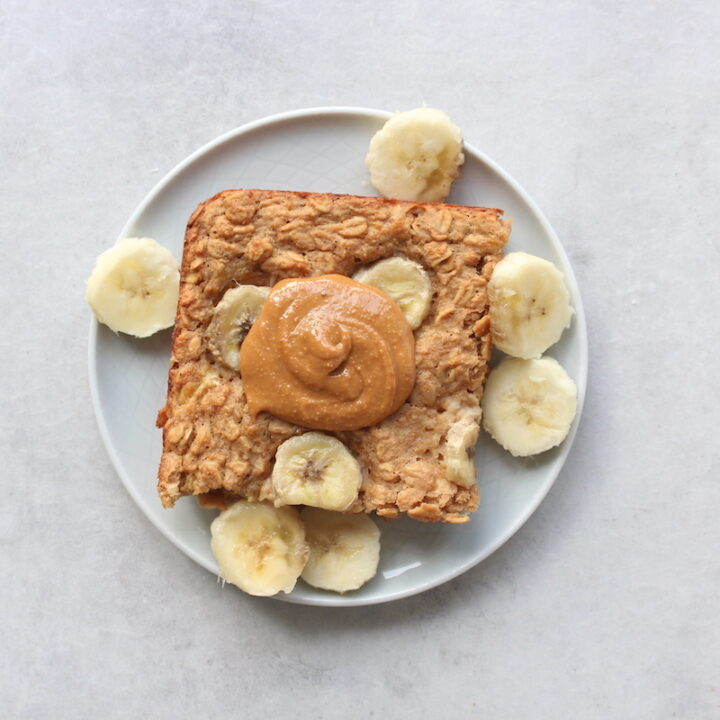 Peanut Butter Banana Baked Oatmeal
Combining two of the best ingredients and hearty rolled oats, this Peanut Butter Banana Baked Oatmeal is going to be your go-to breakfast!
Instructions
In a

large bowl

, prepare your two flax eggs by whisking together 2 tablespoons of

ground flaxseed

and 6 tablespoons of water. Allow the "eggs" to thicken.

Once the eggs have thickened, add in your mashed banana,

peanut butter

,

maple syrup

and non-dairy milk and whisk until smooth.

Add in the remaining dry ingredients and stir until combined.

Pour the batter into your prepared baking dish and even out the top. Top with more ripe banana slices if desired.

Bake for about 30-40 minutes or until set.
Notes
Slice and enjoy with more peanut butter and banana!
Nutrition
Serving:
1
slice
Calories:
368
kcal
Carbohydrates:
46
g
Protein:
12
g
Fat:
16
g
Saturated Fat:
3
g
Polyunsaturated Fat:
5
g
Monounsaturated Fat:
7
g
Sodium:
219
mg
Potassium:
470
mg
Fiber:
7
g
Sugar:
13
g
Vitamin A:
135
IU
Vitamin C:
5
mg
Calcium:
156
mg
Iron:
3
mg