Enjoy learning how to make homemade vegan ice cream with this easy recipe. It requires only 3 ingredients, a few minutes of your time and is no-churn!
Jump To
I, like most children, LOVED ice cream growing up. In fact, my whole family enjoyed ice cream most nights of the week.
To this day, I still love a hefty scoop of vegan ice cream. Unfortunately, non-dairy ice cream is harder to come by, especially here in Asia.
That's why I love to make my own homemade vegan ice cream!
There are so many ways you can make vegan ice cream at home. You can make healthier versions like my Vegan Banana Ice Cream Sandwiches or Peanut Butter Cookie Dough Banana Ice Cream Blizzards.
Or if you're feeling extra decadent you can make my amazing Vegan Ice Cream Cake with Oreo Crust or this 3 ingredient Vegan Ice Cream Recipe I'm sharing with you today!
How to Make Homemade Ice Cream
There are a few different methods for making ice cream at home. I'm sure many of you as a kid used the bag and salt method at some point. Or, if you have the space and budget, you can always buy an ice cream maker and churn your own ice cream at home.
However, there are also a couple no-churn methods for making ice cream at home.
For a healthy, whole food version, you can always make banana ice cream or fruit sorbet by just processing frozen fruit in a food processor or high speed blender until smooth and creamy.
For a richer, more authentic ice cream, you can use the method I'm sharing with you today. For this version you'll be folding together vegan sweetened condensed milk, vanilla extract and whipped coconut cream to create a decadent, scoop-able vegan ice cream!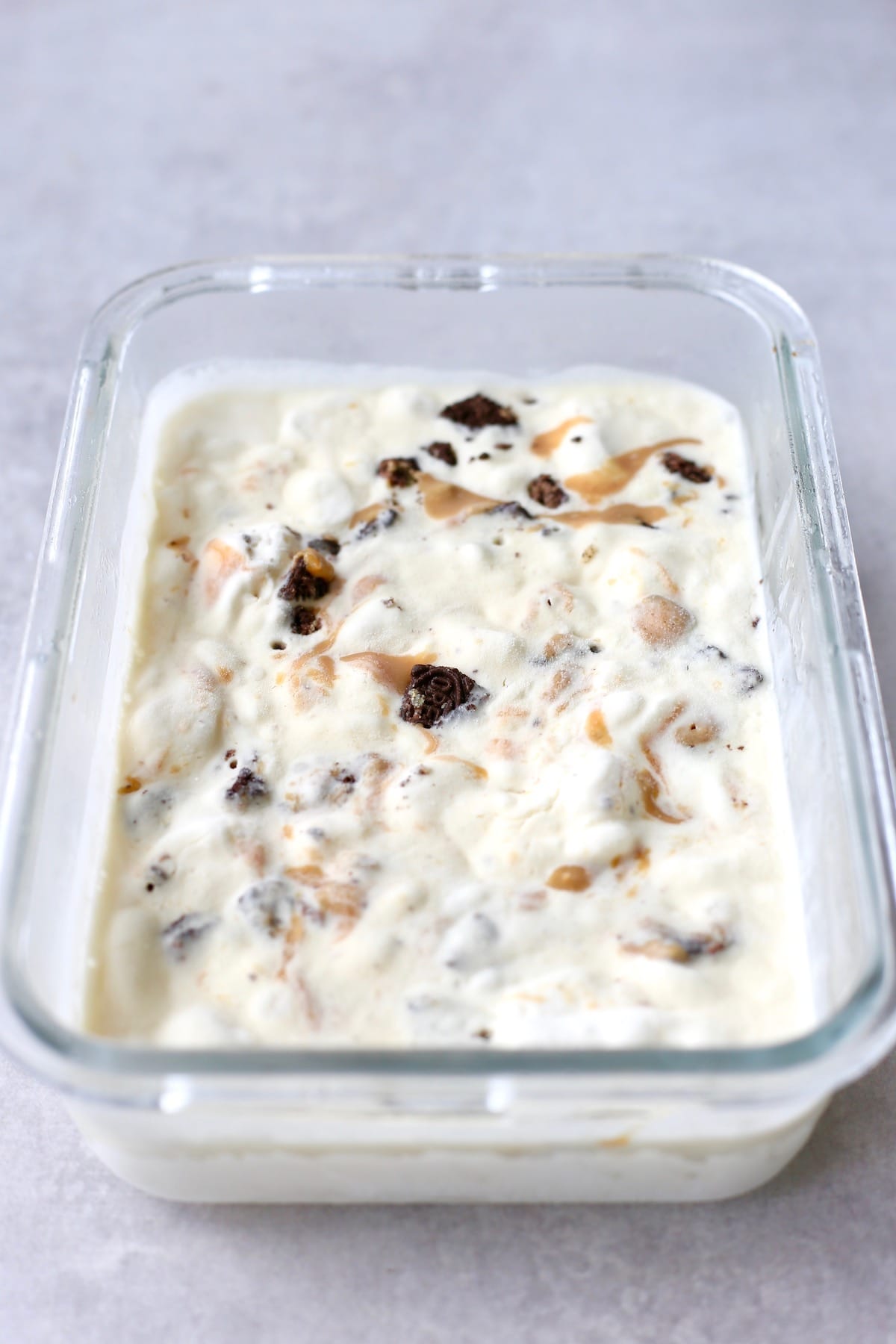 Ingredients for Homemade Vegan Ice Cream
This easy, 3 ingredient vegan ice cream recipe results in vanilla flavored ice cream. For the basic vegan vanilla ice cream base, all you need are the following ingredients: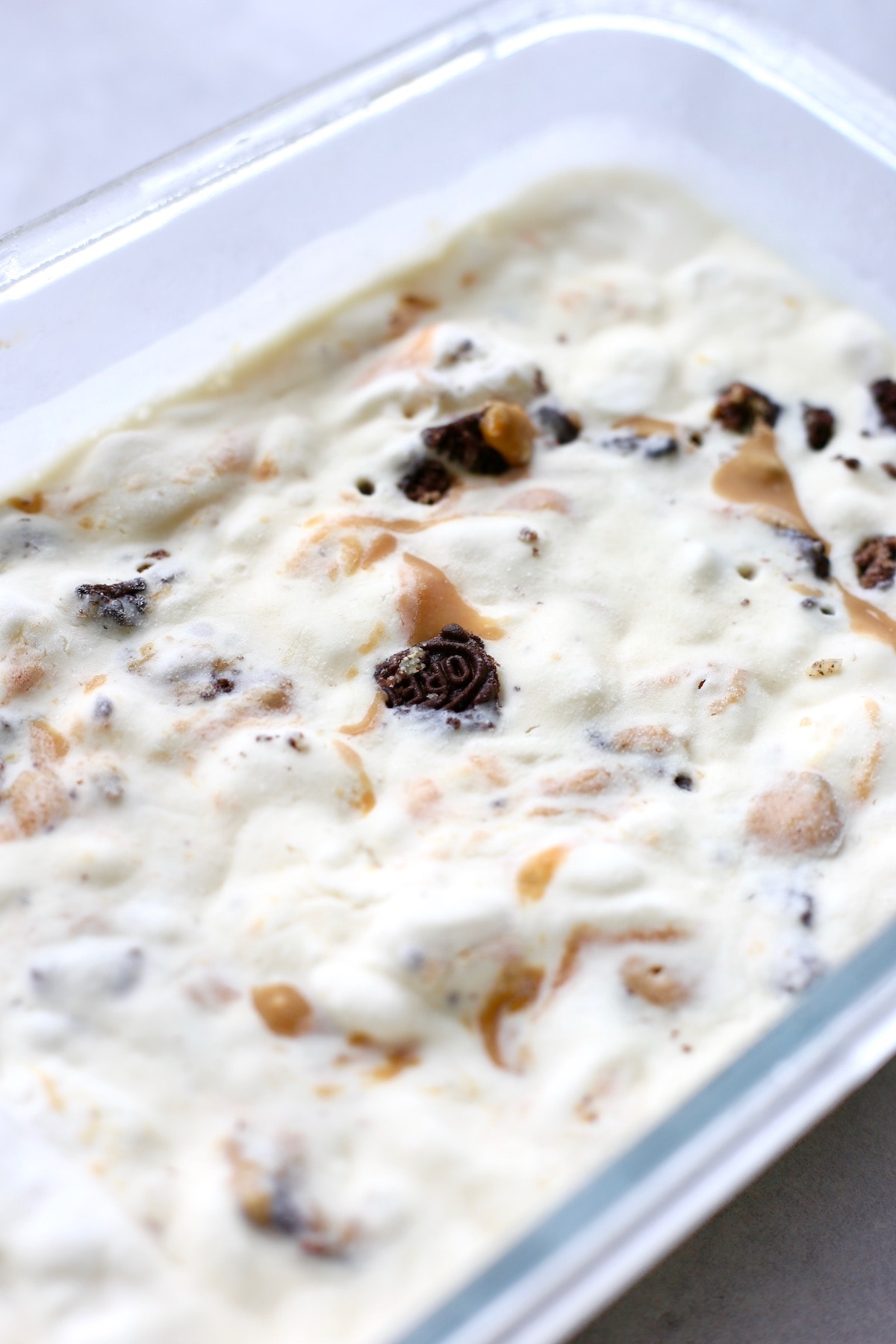 Vegan Ice Cream Mix-In Ideas
Unless its really really good gelato, (I'm thinking of you Sottozero Factory in Malta!), then my vegan ice cream has to have mix-ins.
Below I'll share some ideas for things you can add to your vegan ice cream base to make it more exciting and textured.
Sometimes just one mix-in is all you need, but other times a combination of mix-ins is the winning ticket! You can always think of your favorite store-bought ice cream and try to create a version of that as well.
Mix-In Ideas for Vegan Ice Cream
Vegan cookie dough
Broken up Oreos (or any homemade cookies you have on hand!)
Broken up dairy-free Reese's cups with peanut butter swirl
Vegan caramel sauce
Fresh fruit (raspberries, cherries, strawberries, etc.)
Chopped-up candy bars
Chopped up nuts (toasted would be amazing)
Vegan marshmallow pieces and nuts for a rocky road flavor
Crumbled up cake pieces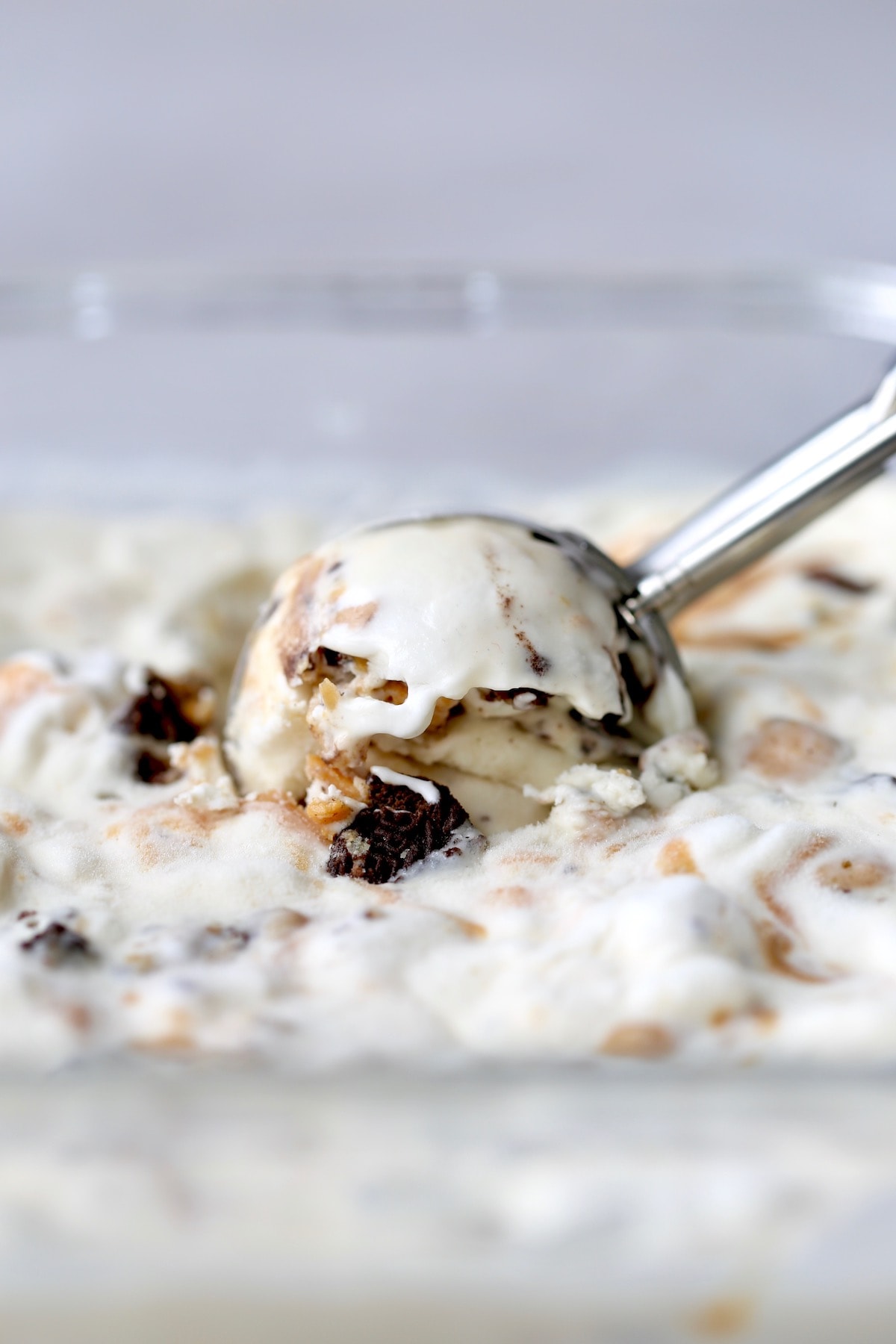 How to Make Vegan Ice Cream Without a Machine
If you're trying to make homemade vegan ice cream without a machine, you need to make sure you use vanilla extract that contains alcohol. Adding alcohol to the base of this ice cream raises it's freezing point, allowing the final produce to be non-icy, scoop-able, creamy vegan ice cream!
Step 1: Combine condensed milk and vanilla
To start you'll need to whisk together the vegan sweetened condensed milk and the vanilla extract.
Step 2: Make coconut whipped cream
In a separate bowl using a hand mixer or in the bowl of a stand mixer, whip the chilled coconut cream until peaks form.
Step 3: Combine the condensed milk and coconut whipped cream
Next you'll loosely mix in about a cup of the whipped coconut cream to the vegan sweetened condensed milk mixture to loosen it up. Then pour the loosened condensed milk mixture into the bowl with the remaining whipped coconut cream and fold everything together until a semi-homogenous mixture forms.
Pro Tip: If you over-whip your coconut cream (like I've done a couple times!) it will be a lot stiffer and harder to fold evenly into the sweetened condensed milk mixture. Don't worry. You can still use it to make this vegan ice cream recipe and the final result will still be delicious!

You just won't have straight-out-of-the-freezer-scoop-able ice cream and the sweetened condensed milk mixture will melt quicker than the cream mixture.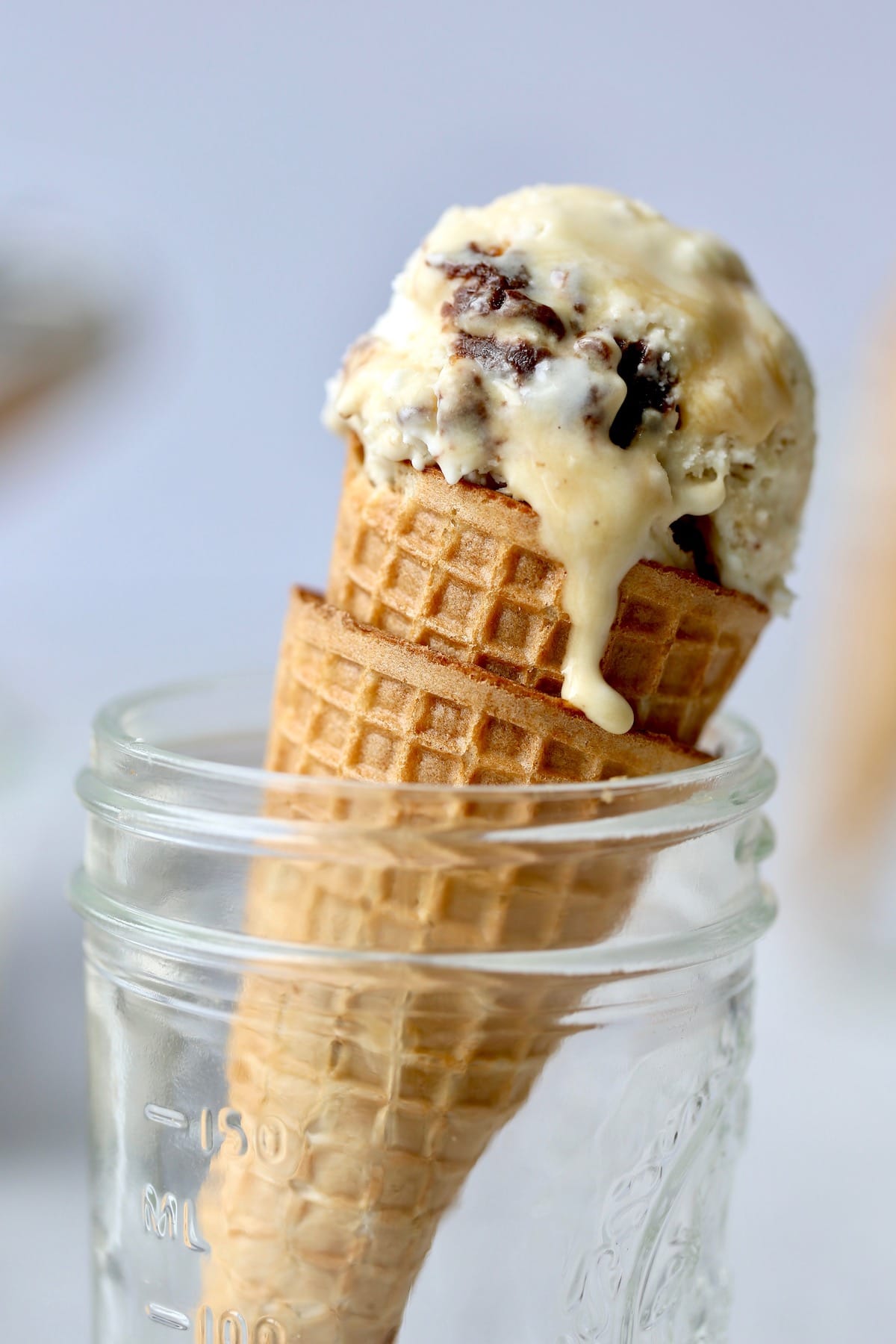 Video Instructions
Video instructions for how to make vegan ice cream are in the recipe card below.
Just to note, unlike in the video, you'll want your base to be as smooth as possible before you freeze it.
Pro Tip: You'll also see that I immediately stir in the mix-ins before freezing the vegan ice cream base. However, I recommend freezing the ice cream base for about 2 hours before stirring in the mix-ins. This keeps heavier mix-ins from sinking to the bottom of the ice cream. It's not necessary, but just a tip!
Enjoy the video and be sure to subscribe to my YouTube channel so you don't miss a recipe video!
Please let me know if you give this vegan ice cream recipe a try! I'd love to know how it works out for you and what mix-ins you include.
If you make this vegan ice cream recipe and love it as much as we do, be sure to leave a 5 star rating by clicking on the stars in the recipe card.
Be sure to share the recipe with your friends as well! And as always, be sure to take a picture and tag @theconscientiouseater on Instagram so I can see the final product!
📖 Recipe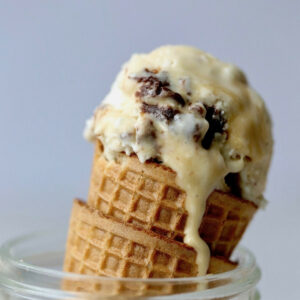 The BEST Vegan Ice Cream Recipe
Made in minutes with just 3 ingredients, this No-Churn Vegan Ice Cream will quickly become a stable in your house all year round!
Instructions
About 8 hours before you plan to make this ice cream, place the

coconut cream

into a container and place it in the fridge to chill.

Using a

stand mixer

or a large bowl with a hand mixture, beat the chilled

coconut cream

until stiff peaks form. Take about 1 cups worth of the whipped cream and gently stir it into the condensed milk mixture until well blended. This will loosen up the condense milk mixture to make it easier to fold into the remaining whipped cream.

Next pour the condensed milk mixture into the large mixing bowl with the remaining whipped coconut cream and use a spatula to fold everything together until as smooth as possible, without completely loosing the air in the whipped cream.

Pour the mixture into a loaf pan (or another freezer-safe container) and place the pan in the freezer.

Around the 2 hour mark, you can stir in any mix-ins you desire. Then return the ice cream to the freezer for about another 3 hours or until completely frozen.

Remove the ice cream from the freezer about 5-10 minutes before serving. Scoop and enjoy!
Video
Notes
*I use two 7.1 oz. of Nature's Charm Sweetened Condensed Coconut Milk. You can also find 11 oz. cans on Amazon here (<--affiliate link) and just measure out 14 oz. Nature's Charm products are becoming easier to find at certain shops and grocery stores so you can also look in store!
**It's important that you're vanilla extract contains alcohol and isn't just vanilla flavoring. You could actually use whatever alcohol you have on hand. Get creative with your flavor base!
Nutrition
Serving:
0.5
cup
Calories:
362
kcal
Carbohydrates:
31
g
Protein:
6
g
Fat:
25
g
Saturated Fat:
21
g
Polyunsaturated Fat:
0.4
g
Monounsaturated Fat:
2
g
Cholesterol:
17
mg
Sodium:
66
mg
Potassium:
381
mg
Fiber:
1
g
Sugar:
27
g
Vitamin A:
132
IU
Vitamin C:
3
mg
Calcium:
148
mg
Iron:
1
mg