Made with creamy, natural peanut butter and rich dark chocolate, these vegan and gluten free Peanut Butter Cups will be gone in minutes!
Jump To
Do any of you not like peanut butter? Brett and I (and Harper too now!) go through insane amounts of peanut butter.
I eat it most mornings with my oatmeal.
I use it in energy bites.
Brett loves peanut butter with a freshly cut up apple.
The list is endless.
We recently moved into our friend's house which we're subleasing for the next few months and my friend left behind a few tubs of peanut butter for us to use. Paired with the two bags that I brought with us from our previous house, we were stocked!
Yet, while making these peanut butter cups, I realized that our peanut butter stash was starting to get low. How on earth did we go through so much peanut butter so quickly?!
I'm still kind of at a loss for where it all went, but I'm just thankful that we found a decently priced brand of natural peanut butter here so I can easily restock when necessary. Plus, now that these gluten free peanut butter cups have become one of our favorite desserts, I know I'll be needing lots of peanut butter on hand in the future! If you, too, love the combo of peanut butter and chocolate, then you need to try out these dairy-free peanut butter blossoms!
These delicious cups are amazing for a few reasons. For starters, this recipe is incredible simple to make as they only require a handful of ingredients and minimal effort. Apart from the chocolate on top, the cups are minimally sweetened, making for a subtly sweet, yet satisfying treat.
I love that you can make them into different shapes, whether that's peanut butter cups or even into bars. Also, if you don't have chocolate chips on hand (or dairy free ones, which can often be the case for me living overseas), you can easily use a chopped up chocolate bar or a simple homemade chocolate recipe, which I'll share below!
How To Make Homemade Chocolate
Whenever I'm in a pinch and need non-dairy chocolate chips, but only have dairy chocolate chips on hand, I love to whip up my own homemade chocolate recipe.
I use this recipe all the time for a chocolate drizzle or to coat fruit or nuts in for a quick dessert. I almost always have these ingredients on hand so melted chocolate is always available when the baking itch hits. Plus, it's sweetened with maple syrup which makes me love it even more!
To make your own homemade chocolate, all you need to do is whisk together:
This makes for a rich, dark chocolate, which I personally love, but feel free to experiment with adjusting the sweetness level to your liking!
More Vegan Peanut Butter Recipes
If you are like me and enjoy anything involving peanut butter, be sure to check out the recipes below! Let me know if you give any of these delicious recipes a try!
---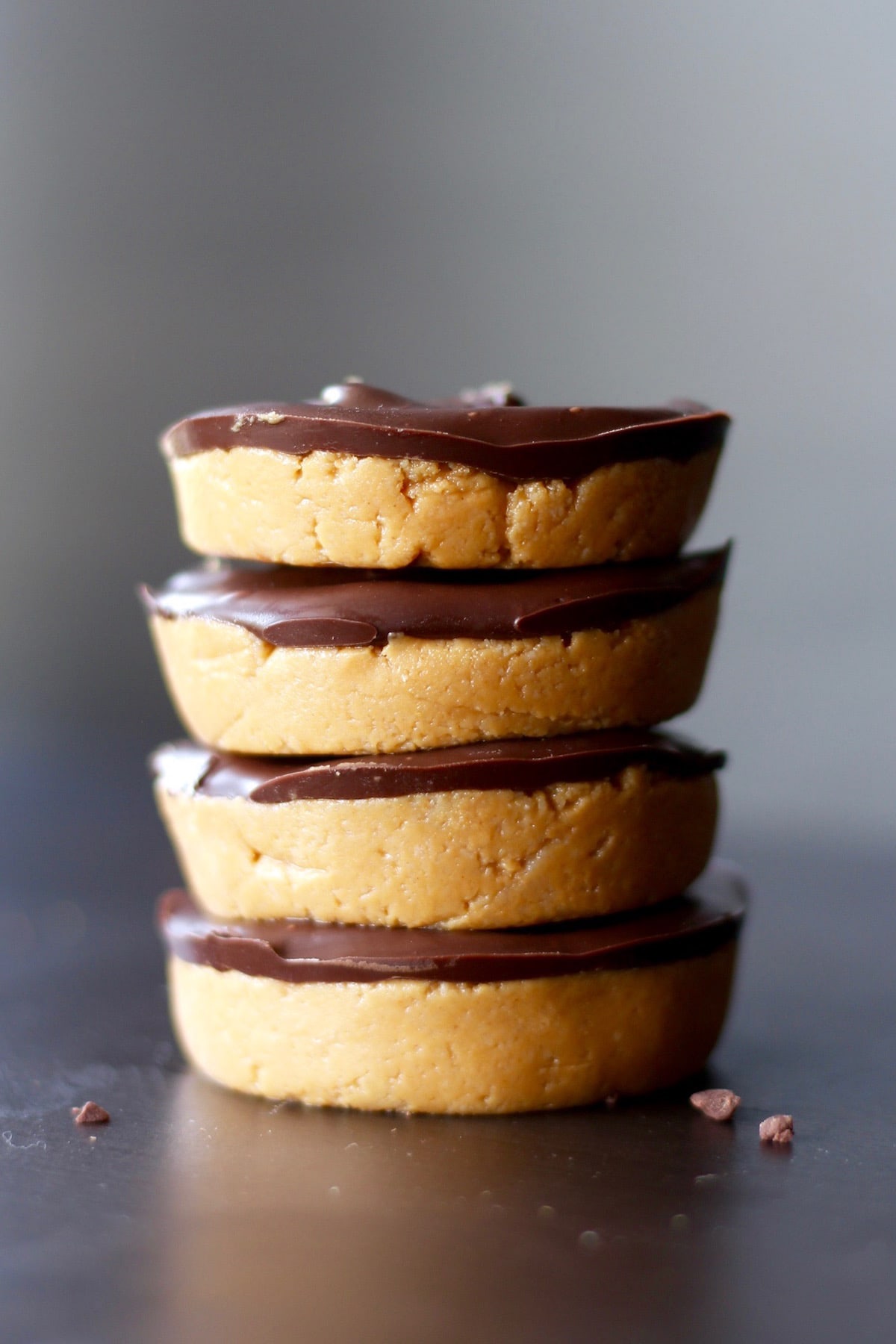 Easy Vegan Peanut Butter Cups Recipe
I'd love to know if you make this recipe and whether you go the cup or bar route.
Leave a comment down below letting me know your thoughts and be sure to rate the recipe and share it with others as well!
📖 Recipe
Easy Peanut Butter Cups (Vegan + Gluten Free)
Made with creamy, natural peanut butter and rich dark chocolate, these vegan and gluten free Peanut Butter Cups will be gone in minutes!
Instructions
In a bowl, mix together the peanut butter, almond flour, maple syrup and salt until a uniform dough forms.

Press the peanut butter dough into a parchment paper-lined pan or silicone muffin cups, depending on what shape and size you desire.*

Place the chocolate chips into a bowl and microwave them for 30 seconds. Stir the chocolate chips and continue this process until the chocolate is mostly melted. If there are a couple chocolate chips still in tact, just stir the warm chocolate until everything is melted.

Pour the melted chocolate over the peanut butter base and smooth into an even layer. Place the bars or cups into the fridge or freezer until the chocolate sets.

If making bars, allow the pan to sit at room temperature for a bit before cutting into bars. I love using silicone baking dishes or muffin cups as it make for easy removal.

Store the bars or cups in an airtight container for up to a week.
Notes
*I feel like using an 8x8 pan would make the bars too thin. I love to use muffin cups so that I can make each cup however thick I want. I also highly recommend using silicone pans or muffin cups as you don't have to deal with baking paper.
Nutrition
Serving:
1
cup
Calories:
213
kcal
Carbohydrates:
14
g
Protein:
6
g
Fat:
17
g
Saturated Fat:
4
g
Polyunsaturated Fat:
2
g
Monounsaturated Fat:
4
g
Sodium:
42
mg
Potassium:
102
mg
Fiber:
2
g
Sugar:
9
g
Calcium:
43
mg
Iron:
1
mg